Rheumatology
What is Rheumatology?
Rheumatology is the branch of medicine that addresses diseases of the joints, muscles, bones and connective tissues. Rheumatologists are trained in the causes, development, diagnosis and treatment of diseases and health problems such as:
Rheumatoid arthritis
Osteoarthritis
Gout
Lupus
Back pain
Osteoporosis
Tendinitis
Time to treat
You may be referred to a rheumatologist if you have severe pain or pain that does not resolve as expected in a joint, muscle or bone.
Our rheumatologist may use x-rays, muscle tests, blood analysis or other methods to find the cause of the pain. This process may take several visits, since rheumatic diseases can be very complex and can change or evolve over time.
Treatment of a rheumatic disease may include many healthcare providers in addition to Dr. Wanalista, such as nurses, physical and occupational therapists, psychologists, and social workers. A team approach to rheumatic disease helps ensure that all of the symptoms and effects receive attention.
About David Wanalista, D.O.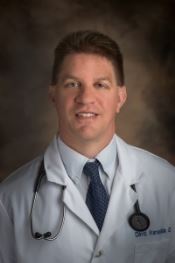 Dr. Wanalista has more than 15 years of clinical experience in private practice and also spent the last three years teaching the next generation of physicians as a Clinical Professor of Internal Medicine at Inspira Medical Center in Vineland, New Jersey. He earned his medical degree at Philadelphia College of Osteopathic Medicine before completing his Internship and Residency in Internal Medicine at Scranton-Temple Residency Program in Scranton, Pennsylvania. He completed his Fellowship in Rheumatology at Drexel University College of Medicine in Philadelphia. Dr. Wanalista is board certified by the American Board of Internal Medicine with certifications in Internal Medicine as well as the subspecialty of Rheumatology.
Dr. Wanalista is seeing patients at Atlantic General Rheumatology in Berlin, MD and in Atlantic General Specialty Care in Ocean View, DE. To make your appointment, call (410) 641-9482.