Our Timeline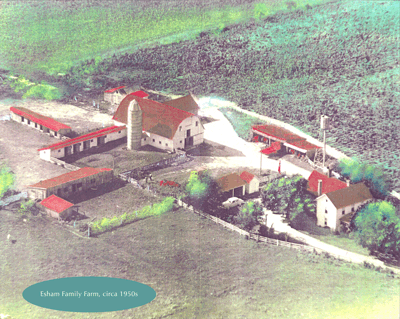 Esham Farm circa 1910's
This effort succeeds where previous attempts to bring a hospital to Worcester County had failed, but the labor is just beginning. With their first employee, Julie Pendleton, hired to conduct fundraiser and offer support services, the need for more help is increasingly evident. Volunteers answering an ad in the newspaper come to help out in the fundraising office; the board holds intense planning meetings with local nurses, support services, and physicians to determine the essential services of the new hospital, the layout of the facility, and all the fine details that go into launching a rural acute care hospital.
1989-1990:
Dream of a hospital on the Eastern Shore begins to take shape.

With the closest hospital for Worcester County residents at least a 30 minute drive away, a determined group of local physicians and concerned citizens -- some of whom became the first members of Atlantic General's board of directors -- was adamant that building a hospital in Worcester County was imperative to the health and wellbeing of the area. Through their hard work, which included commissioning a Price-Waterhouse public opinion survey, drafting a certificate of need, and making repeated visits to the 38th Delegation and then Governor Schaefer in Annapolis, a bond bill was signed, cementing the dream of a healthcare facility close to home.

With a $5 million commitment from the state of Maryland and an additional $5 million from Worcester County and $2.5 million from the town of Ocean City, local community leaders set out to raise the remaining funds necessary to build a hospital. Fundraisers begin small but, over time, yielded big results as the community embraced the cause. The money starts to roll in, from raffles, such as the one for a Chevy Cavalier, donated by Barrett Chevrolet in Berlin, to fundraising breakfasts and solicitation of personal pledges.
1991:
Public officials, board members and area residents join together to witness formal ground breaking.
None of this could have been accomplished without the influence of a number of community members, including Irvin Bainum, who sat on the first hospital board of directors, donated much of the land on which the hospital sits and financed the legal services to obtain the certificate of need for the hospital, Linda Robbins, who served as project manager on the board of directors, Dr. Francis Townsend, Jr., a driving medical voice in the community and one of the first members of the board of directors, former County Commissioner and hospital board member James G. Barrett, past Delegate Mark Pilchard, a number of senior hospital officials still with the organization, and the list goes on.
May 21, 1993:
Hospital opens its doors to the community for the first time.
Atlantic General Hospital begins as a 62-bed hospital with a small emergency department and a long-term care unit that occupies an entire wing of the second floor. As the population grows and the need for medical care increases, Atlantic General eventually moves away from long-term care toward more acute care and specialized outpatient services.
During the first year of operation there are 13,316 emergency room visits, which exceed initial projections by 10 percent. Atlantic General Hospital exceeds first year revenue projections by .5 percent and outpatient revenue by 23 percent.
1995:
Atlantic General Health System begins with three primary care providers. It has since expanded to include more than 30 providers in Berlin, Ocean Pines, Ocean City, West Ocean City and Pocomoke as well as Ocean View, West Fenwick and Selbyville, DE, offering primary care, pediatrics, gynecologic services, pulmonary care and imaging services.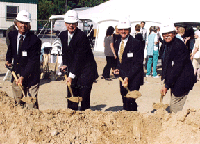 2003 – 2004:
The hospital grows, with an enlarged emergency department with 19 beds, eight of those being cardiac beds, and a fast-track area for more minor sudden injuries and illnesses as well as a second lobby, a sleep disorders diagnostic center and additional space for pulmonary medicine and the hospital's administration, outpatient laboratory, and imaging department.
2004-2005:
Existing hospital space is redefined to create the Center for Joint Surgery and the Women's Diagnostic Center, a department dedicated solely to women's health diagnostic services including mammograms, bone density measurements, and minimally invasive breast biopsies.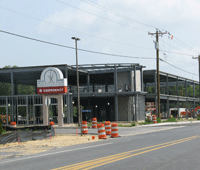 January 2006:
Official Groundbreaking for the James G. Barrett Medical Office Building on the corner of Healthway Drive. The 42,000 square-foot two-story building, which was designed by the Becker Morgan Group; was built by Nason Construction of Salisbury.
April 2008:
The James G. Barrett Medical Office Building on Healthway Drive formally opens. The complex houses services new to Atlantic General and the area – a Wound Care Center and office for the Diabetes Outpatient Education Program and the dedicated Atlantic Endoscopy Center. The combined medical office and retail space also includes Atlantic General Surgical Associates and a women's health center, a Coffee Beanery, Chesapeake Eye Center and Neurological Associates.
Today:
Today, Atlantic General Hospital accommodates more than 117,000 patient visits per year with a medical staff of more than 190 providers. Leadership has set strategic plans for the next phases of patient care – oncology, endocrinology, urology, preventive health and wellness programs – as well as new electronic and IT initiatives that will continue to improve the overall health of residents and visitors of Worcester County and the surrounding areas. View our 2020 strategic plan.