Volunteer

The Atlantic General Hospital Auxiliary promotes the welfare of the Hospital by fostering good public relations, providing service to the Hospital, organizing health related projects and by conducting fund raising activities.
Click here to apply to be a volunteer.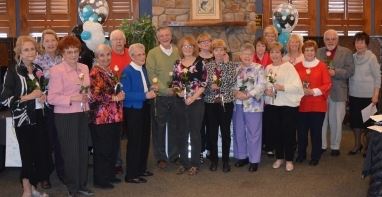 Our Auxiliary is the second largest single hospital in volunteer numbers with 247 members and our volunteers provide more than 39,000 hours of service to the hospital annually. Volunteers support the Hospital by donating their time and expertise every aspect of our Hospital and Health System.
"We are very appreciative of all of the work our volunteers do for the hospital. The time they so generously give is priceless and we couldn't do it without them!" - Janet Mengel, Past Auxiliary President
Volunteers also serve on Hospital teams and committees providing crucial insight and community support to our Hospital. Click here to learn more about the various volunteer opportunities.

The Auxiliary has continually been recognized and commended for its unwavering dedication to our community hospital, but none more so than in the receipt of a Governor's Citation, and an annual Certificate of Achievement from the Maryland Association of Hospital Auxiliaries.

While the Auxiliary is extremely generous in their donation of time, the organization also offers financial support to the institution. From 2006 to present the Auxiliary has donated over 1 million dollars to fund equipment purchases, renovations to the facility and education opportunities to the community.
The Auxiliary has three main fundraising activities:
Monthly Lobby Sales of various kinds of merchandise
The Thrift Shop - a short distance from the Hospital - sells gently used clothing, accessories, jewelry, household items including books, decorator items and furniture
Special Events such as The Three Tenors and a Diva concerts

In 1998 The Junior Auxiliary Group (JAG) was formed as a sub-group of our Auxiliary. The group consists of hospital and health system associates and community members who want to socialize and be active in supporting the hospital but are unable to volunteer during the day due to work and/or childcare responsibilities. The mission of JAG is to increase community awareness of Atlantic General Hospital and its associates through fun, fellowship, and family-oriented activities and fundraising. Each year this group publishes a welcome reference book of personal references for new member of the hospital community and supports the James G. and Nancy W. Barrett Nursing Scholarship Fund.

For more information about the AGH Auxiliary, please contact the Auxiliary's Volunteer Coordinator at (410) 629-6859. If you are interested in volunteering at Atlantic General Hospital, you may stop into the Hospital pick up an application, complete an application online or print the form and bring it to the main desk at the Hospital or mail it to the Volunteer Coordinator, Atlantic General Hospital, 9733 Healthway Drive, Berlin, MD 21811.