Testimonials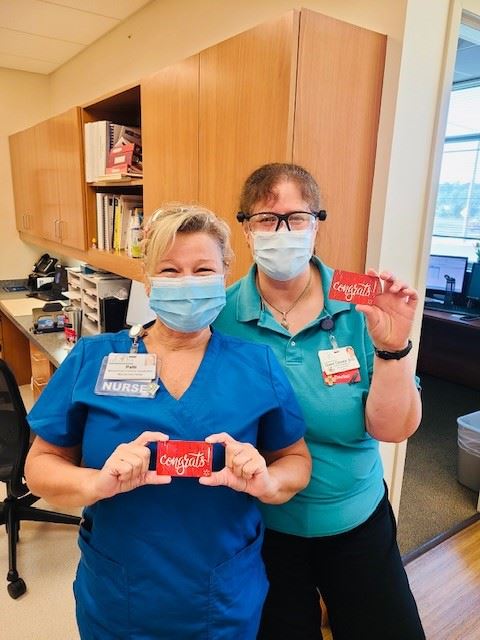 "Patti, I just wanted to send you a note to let you know how much I appreciated your help at the wound center on June 30th. To begin we were over an hour late due to the ambulance coming late. When we got to the wound center I was not sure if S would be seen, but everyone was so gracious and understanding about the ambulance situation and had us set up in a back room. You came in and reassured me that S would be seen and everything would be alright. I can't tell you how relieved I was and you made things go a little easier. You were so gentle when you were applying Vaseline/Lidocaine(sp) to his back. He has always been so tensed up when I would try to apply cream to his back. You and Dr. Ceruzzi looked at [one of his wounds] and said that it could be healed but in time, more reassurance to me. Then when you and Dr. Ceruzzi looked at his foot and leg it was recommended he be transferred to the hospital for a surgeon to evaluate. Thank you so much for everything you did and I felt a little better about his situation when I left. I have heard wonderful things about the Wound Center from a neighbor who was treated there, and her words proved to be so true."
- A Grateful Patient Family Member
Summer 2021
(pictured above: Patti Winward (left), clinical coordinator of the Wound Care Center, with Dr. Diane Ceruzzi)
---
I was admitted to AGH on Saturday, December 4, with an unexpected fractured hip. I can't find the words to express my appreciation for the care that I received. From the moment I was wheeled through the entrance until the date of my discharge, every single person who came into my room showed concern and compassion. I recorded names from the board in my room and share them here: Pat, Vanessa, April, Fil, Sabrina, Allie, McKayla provided nursing care, Heather and Patricia prepared me for surgery with Dr. Chin and Dr. Beck, two amazing therapists took me through the paces so I could be discharged but I did not write down their names. I would like to especially call out Vanessa. She was patient but firm and helped me with things I never thought I would need help with and did so in a way to protect my dignity. I'm hoping she can be nominated for a Daisy Award as I believe she truly deserves it. While I hope to not need inpatient care for a very long time, I am confident that if I do, AGH will be the place I choose. Again, thank you for being superior care.givers!
- Joanne C. | A Grateful Patient
Winter 2021