About Your Stay
Your Room
Your room assignment is based upon your admitting diagnosis and the bed availability on the day of your admission. All rooms are private and feature free telephone and wifi. Atlantic General provides free basic cable in all rooms except in the Critical Care Unit.
Local calls are free. Long-distance calls cannot be charged to your room, so you are encouraged to bring a calling card or to make collect calls. Patients may receive calls in their room at any time. Your phone number while at the hospital is posted in your room. It is highly encouraged that you provide your room telephone number to friends and relatives to ring your room directly.

A button to call the nurse is located at your bedside.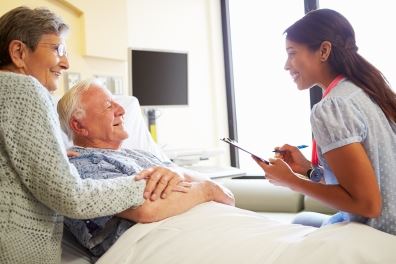 Please do not bring valuables or large amounts of cash with you. If you need to bring these items, they should be stored in the hospital's safe during your stay. Atlantic General Hospital cannot accept any responsibility for personal belongings or valuables not stored in our safe.
For Your Comfort
Atlantic General Hospital offers several Integrative Health Services to our patients during their stay to help relaxation and healing: Warm blankets, aroma/essential oil therapy, animal-assisted therapy, healing music, and relaxation tv channel. Ask your care team, if you would like any of these services.
Food Service
Wholesome, nourishing and well-balanced meals are an important part of your treatment and recovery. Our dietitian individually meets with patients to help them with making the proper choices according to the diet their physician has ordered. Patients are served meals as follows:

Breakfast begins at 7:00 a.m.
Lunch begins at 12:00 noon
Dinner begins at 5:00 p.m.

Occasionally, your meal may be delayed if you are scheduled for a special test or treatment.
If a family member wishes to eat in your room with you, they may purchase food from the hospital cafeteria and bring it up to your room.
Cafeteria
The cafeteria is open Monday - Friday from 6:30 a.m. to 6:00 p.m. (weekends and holidays until 4 p.m.) and features a variety of soups, sandwiches, entrees and desserts. While it is primarily used to serve hospital employees, visitors are welcome to eat in the cafeteria any time it is open.
Vending Machines
Vending machines for snacks and beverages are available 24 hours a day in two locations on the first floor: in the Emergency Waiting Room and in the hallway near the Surgical Waiting Room.
Mail
Letters and packages are delivered to your room each morning by hospital volunteers. Mail that arrives after you have been discharged is forwarded to your home. Stamps and stationery may be purchased in the gift shop. Outgoing mail may be left at the nurses' station or given to a volunteer.
Parking
Free parking for patients and visitors is available 24 hours a day, seven days a week. Please be sure to lock your car.
Newspapers
There is a USAToday vending machine outside the doors near the information desk, and nearby convenience and drug stores sell papers such as The Washington Post and the Baltimore Sun. A number of free weekly papers from the area are available in the Outpatient Services Lobby on Tuesdays and Fridays.
Notary Public
Notary Public services are available free of charge for patients.
For the Hearing Impaired
A telecommunications device is available to help hearing-impaired patients who want to communicate with another hearing-impaired relative or friend. Arrangements can also be made to have a person who uses sign language help a hearing-impaired or deaf patient.
Interpreters
The hospital can facilitate communication in a foreign language should you or your family require assistance.
Smoking
Smoking is strictly prohibited throughout the hospital and on hospital grounds. Thank you for helping to create a healthier environment for our patients, visitors and staff.
Discharge Information
Before discharge, patients are issued a discharge folder, which includes information to prepare you for care once you leave the hospital. Information on financial assistance, medication, patient education, and a discharge checklist are all provided to aid you in the discharge process.
Lost and Found
Patients are asked not to bring valuable items with them to the hospital. If you do bring a valuable item, it should be deposited in our safe. You will be given a written receipt for all items, which must be presented when you withdraw them. Lost items are held by the Safety and Security Office for 14 days. To inquire about lost articles, call Safety and Security at extension 9278, or at (410) 641-9278 from outside the hospital.
Your Quality Care
To learn more about the quality care provided by Maryland hospitals, including Atlantic General Hospital, please visit any of the following web sites:
www.jointcommission.org
www.mhcc.maryland.gov
​Capable Caregiver
For helpful tips on how to take an active role in your stay at Atlantic General Hospital click here.