About Our Team
Rabindra Paul, M.D., Medical Oncologist and Hematologist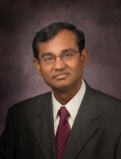 Dr. Paul brings a wealth of training and experience to his role as head of the John H. 'Jack' Burbage, Jr. Regional Cancer Care Center. His prior positions include fellowships in hematology and medical oncology at Howard University Hospital in Washington, DC, and in infectious diseases at Kansas University Medical Center in Kansas City, KS. Dr. Paul received his medical degree at Mymensingh Medical College in Bangladesh, followed by residencies in Bangladesh (medicine and surgery), Zambia (pediatrics) and the United States (internal medicine at the Weill Medical College of Cornell University in New York). He has specialized in breast, GU, GI and hematologic malignancies as well as treatment of infections in oncology patients. Dr. Paul is the author of articles and papers published in peer-reviewed journals covering topics such as leukemia, prostate cancer, Kaposi sarcoma, and sickle cell disease. He is a member of the American Society of Clinical Oncology, the American Society of Hematology, the Infectious Diseases Society of America and the American College of Physicians. Dr. Paul is board-certified in medical oncology and hematology, infectious diseases and internal medicine. Prior to joining AGH, he spent two years in private practice in Washington, DC.
To make an appointment, please call (410) 629-6888.
---
Manoj Jain, M.D., Radiation Oncologist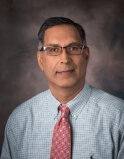 Dr. Jain is a board-certified radiation oncologist with nearly fifteen years of experience practicing radiation oncology on Maryland's Eastern Shore. He received his medical degree from New York Medical College in Valhalla, NY and completed his specialty training in radiation oncology at Mount Sinai Hospital in New York. Dr. Jain has worked with many specialists to provide highly individualized, state-of-the-art treatment for many different types of cancers including prostate, breast, lung, and head and neck cancers. He has worked extensively with the man-to-man prostate cancer support group and breast cancer support groups to promote the most advanced forms of treatment for these cancers. His commitment to using the latest scientific data to treat cancer patients has led to the organization of a multi-disciplinary cancer conference at Atlantic General Hospital, where he also serves as the chairman of the Cancer Review Committee. Dr. Jain is now accepting new patients. To make an appointment, please call his office at the Burbage Regional Cancer Care Center at (410) 629-6288.
---
Paige Wildmann, CRNP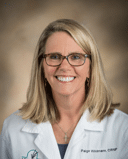 Nurse Practitioner Paige Wildmann joined the medical staff at the John H. 'Jack' Burbage, Jr. Regional Cancer Care Center in 2019. She has more than 16 years of experience as a certified registered nurse practitioner, with more than 13 years in cancer care. She earned her bachelor of science in nursing from Salisbury University and her master of science in nursing from Wilmington University. Her office at the Burbage Center can be reached at (410) 629-6888.
---
Katie Collingsworth, Patient Financial Counselor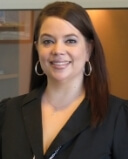 Katie Collingsworth joined the staff of the Regional Cancer Care Center in August of 2016. She joined our team with more than 10 years of Oncology experience. She has completed a medical billing and coding program and is very knowledgeable with our ever changing medical field. Katie provides many services to our patients. She works with insurance companies to obtain prior authorizations, enroll patients in manufacturer co-pay assistant programs, and guides patients to local resources to help alleviate financial burdens.
A cancer diagnosis can come with many overwhelming barriers, finances being at the top of list for most patients. Katie meets with every new patient to reassure them that during this difficult time she is here to help and that their financial or insurance situation will not determine their level of care.
As the financial counselor at RCCC, Katie comes with an open door policy and always has time to speak with our patients and their caregivers about questions or concerns that may come up.