Bariatric/Weight Loss Services
If you are looking to make a life change by starting your weight loss journey, our team of knowledgeable and caring professionals at the Atlantic General Bariatric Center is here to help you.
We'll be there for you the whole way.
Our services include:
Advanced surgical techniques, including gastric bypass, sleeve gastrectomy, and lap band removal / sleeve conversion.
Comprehensive medical evaluation
Dietary monitoring and support
Pre- and post-operative counseling and resources
Online patient support group
---
Questions about the bariatric surgery process? We're here to help.
Our goal is to ensure you have answers to your questions about the bariatric surgery process. We offer a variety of resources for center participants. We are also here with counseling for any concerns you may have, and we can answer questions that come up along the way.
Watch this video about patient Aaron Barclay's successful weight loss journey with Atlantic General Bariatric Center
Would you like more information regarding the sleeve gastrectomy procedure? Are you interested in learning more about our monthly support groups, blog, financial counseling services, and other tools and resources? To learn more and schedule an appointment with our Bariatric Center, please call (410) 641-9568.
New Direction Medical Weight-Loss Program
If you need help with your commitment to lose weight but aren't interested in surgery, the New Direction Medical Weight-Loss Program could be an ideal match for you. Through this program we provide our patients with the treatment, as well as ongoing support and monitoring, necessary to safely reach their goals and achieve permanent weight loss. Long-term success is possible through measured, responsible changes in dietary, behavioral, and activity patterns. Learn more about this program when you contact Atlantic General Bariatric Center.
Call Atlantic General Bariatric Center Today
Achieve newfound freedom, energy, and long-term success with help from the Atlantic General Bariatric Center. Learn more about our services. Contact our staff at Atlantic General Bariatric Center today to set up an appointment!
An Accredited Center
Atlantic General Bariatric Center meets all criteria according to national quality standards established to deliver safe, high quality bariatric patient care.

The center has been accredited under the Metabolic and Bariatric Surgery Accreditation and Quality Improvement Program (MBSAQIP), a joint program of the American College of Surgeons (ACS) and the American Society for Metabolic and Bariatric Surgery (ASMBS). The MBSAQIP Standards, outlined in the Resources for Optimal Care of the Metabolic and Bariatric Surgery Patient 2014 ensure that bariatric surgical patients receive a multidisciplinary program, not just a surgical procedure, which improves patient outcomes and long-term success. The accredited Atlantic General Bariatric Center offers preoperative and postoperative care designed specifically for their severely obese patients.
To earn the MBSAQIP designation, Atlantic General Bariatric Center met essential criteria for staffing, training and facility infrastructure and protocols for care, ensuring its ability to support patients with severe obesity. The center also participates in a national data registry that yields semiannual reports on the quality of its processes and outcomes, identifying opportunities for continuous quality improvement. The standards are specified in the MBSAQIPResources for Optimal Care of the Metabolic and Bariatric Surgery Patient 2014, published by the ACS and ASMBS.
After submitting an application, centers seeking MBSAQIP Accreditation undergo an extensive site visit by an experienced bariatric surgeon, who reviews the center's structure, process, and clinical outcomes data. Centers are awarded a specific designation depending on how many patients it serves annually, the type of procedures it provides, and whether it provides care for patients under age 18.
---
A Blue Distinction Center

CareFirst BlueCross BlueShield first recognized Atlantic General Hospital with a Blue Distinction® Center Designation in the area of Bariatric Surgery as a part of the Blue Distinction Specialty Care program in 2018. In 2021, the Atlantic General Bariatric Center was redesignated by BlueCross/BlueShield (Carefirst) as a Blue Distinction® Center+ for Bariatric Surgery. To receive a Blue Distinction Center for Bariatric Surgery designation, AGH had to demonstrate success in meeting patient safety as well as bariatric-specific quality measures.
---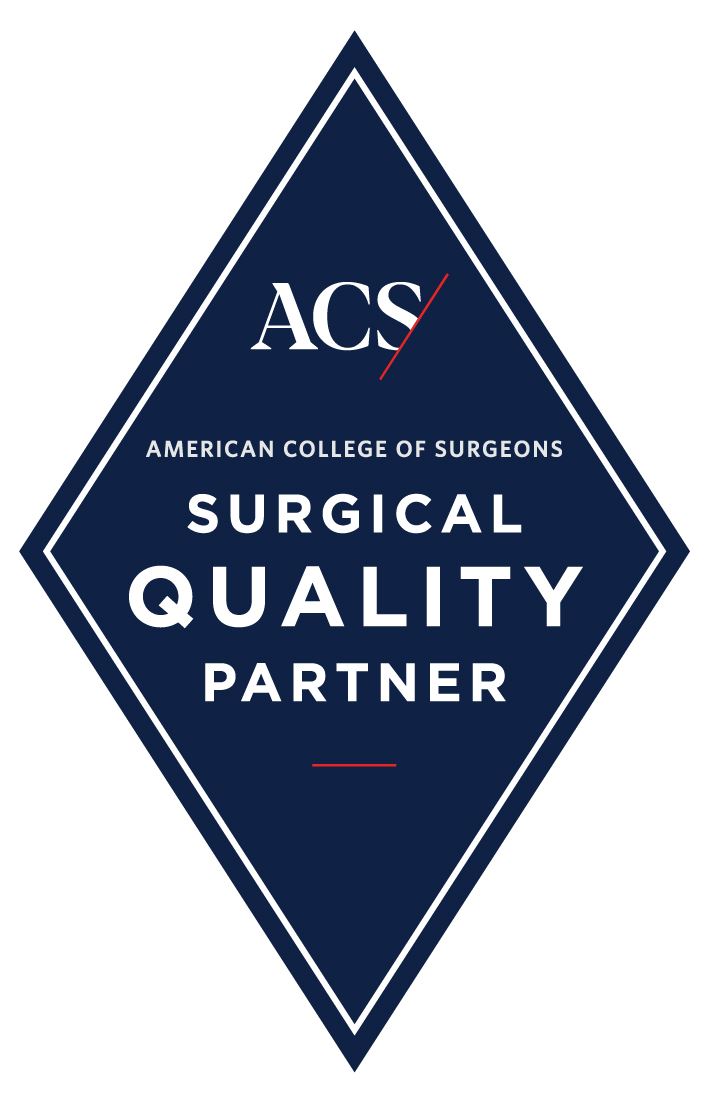 ​
​​A Surgical Quality Partner
This designation reflects our proven record of adhering to the most rigorous standards in surgical quality—to minimize complications, improve outcomes, and save lives. Our participation in American College of Surgeons (ACS) Quality Programs helps ensure that we continue providing our patients with the best care possible. When you see the ACS Surgical Quality Partner mark in our bariatric center, you can trust that we're dedicated to quality and relentless self-improvement.