Low Dose CT Lung Cancer Screenings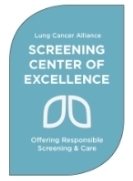 Atlantic General Hospital's Imaging Department provides low-dose CAT scans for individuals most at risk for developing lung cancer. Studies have shown that this type of screening is successful in preventing a significant number of lung cancer deaths. Roughly three-quarters of lung cancers found after symptoms emerge cannot be cured.
Atlantic General Hospital's Imaging Department has been named a Screening Center of Excellence by the Lung Cancer Alliance (LCA) for its ongoing commitment to responsible lung cancer screening. Low dose CT screening for lung cancer carried out safely, efficiently and equitably saves tens of thousands of lives a year.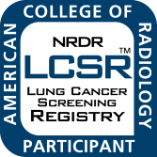 Below Are Answers to Some Frequently Asked Questions that Can Tell You More:
Who Should Have This Screening?
Those individuals most at risk of developing lung cancer are candidates for this screening. This includes current and former smokers, individuals with a close family history of lung cancer, and those with work-related asbestos exposure. The criteria for screening are below:
Completed a face to face shared decision-making visit
Are between 50 and 80 years old
Currently smoke or have quit within the past 15 years
Smoked at least a pack of cigarettes a day for 20+ years (or 2 packs a day for 10 years)
Asymptomatic (without signs or symptoms of lung cancer)
What Are the Risks of This Screening?
There is a certain amount of risk associated with any type of imaging procedure that utilizes radiation. Therefore, those at lesser risk of developing lung cancer should not receive this screening. Any individual interested in being screened for lung cancer should have a face to face discussion with their provider about the benefits and risks of this type of screening.
Is This Screening Covered by Insurance?
This screening is covered by Medicare and Private Insurance, if preventative coverage is listed on the insurance plan. Please check with your insurance company to learn about coverage under your specific plan.
Is the Exam Expensive?
The screening is covered by Medicare. However, if you do not have Medicare, the price of the screening is within reach for many current and former smokers who are concerned about their lung health, costing about the same as four cartons of the cigarettes. Individuals who enroll in the screening program must commit to a minimum of one low-dose lung CAT scan each year each year for as long as you meet the eligibility requirements. Depending upon your insurance plan, you may be responsible for the cost of the subsequent exams as well. Please consult your primary care provider and your insurance carrier for more information.
What Steps Do I Take if I Want to Have the Low Dose Lung Cancer Screening?
This screening requires an order from a patient's physician. If you want the screening, you must talk to your physician. Your physician will provide an order If he or she determines that you are a candidate. Your Provider will notify us that you are eligible for a Lung Cancer Screening and our scheduling department will call you to set up an appointment.
How Will I Get the Results of My Lung Screening?
Our Lung Screening Coordinator will notify you and your Provider by letter for a 12 month or 6 month follow up exam. If it is necessary for you to see a Pulmonologist (lung specialist) about your results, this will be discussed with your Provider and your Provider will call you to explain your results and the plan going forward.