Cancer Care / Oncology
The best cancer care out there... is right here.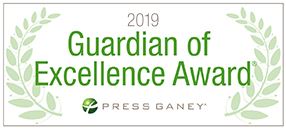 In recognition of achieving the 95th percentile or above of performance in patient satisfaction.
When faced with a cancer diagnosis, you need the right team on your side -- one who serves you with compassion and excellence. Contact us today at (410) 629-6888 for more information. Our team is highly trained and we are passionate about what we do. See what our patients have to say.
Offering Same-Day or Next-Day Appointments for New Patients.
At the Burbage Regional Cancer Care Center, our approach to cancer treatment is centered on you and your family.
The Burbage Regional Cancer Care Center provides the most advanced treatments for patients diagnosed with cancer. Our state-of-the-art facility was built through the commitment and generosity of our community, and that's the approach we bring to every patient we meet. Our patients matter to us, and we're here to walk with them through this challenging time.
What makes our approach different?
Our approach is holistic. Our cancer care / oncology experts strive to treat the whole patient, not just the cancer, taking a multidisciplinary approach to treating each case. Cancer is a difficult journey, but we're here to help.
Our oncology / cancer care services include:
Surgery
Chemotherapy
Radiation oncology
Genetic counseling, with specialists from the University of Maryland Greenebaum CompCancer Center
Immunotherapy
Palliative care and complementary therapies
Hematology
Nutrition advice and planning
Counseling and psychological support
Our staff and center have the resources necessary to treat all types of cancer including but not limited to:
Breast cancer
Leukemia / lymphoma
Melanoma
Urinary tract cancers
Prostate cancer
Lung cancer
Colorectal cancer
We know that cancer care is so much more than just medical treatment.
It's also emotional support and trusted guidance. We're sensitive to each patient's emotional and mental state, in addition to the needs and wishes of family members and other caregivers. That's one of the reasons we offer same-day or next-day appointments for individuals who have just received a cancer diagnosis.
At the Burbage Regional Cancer Care Center, located on Atlantic General Hospital's campus in Berlin, MD, we see each patient as unique, with individual treatment needs. Our goal is to ensure that the services we provide relating to cancer treatment – such as chemotherapy infusions, radiation therapy, fluid replacement and blood transfusions – and comprehensive care plan are tailored to each patient's current medical condition. Call us today at (410) 629-6888.
Cancer Care for Maryland, Delaware, and Virginia
Get in touch with Atlantic General Hospital to learn more. We have been serving members of the community since 1993. Contact us today to learn more about our cancer care services.
About Jack Burbage
John H. 'Jack' Burbage, Jr. served on the board of trustees for Atlantic General Hospital for 10 years. He also served as co-chair the Atlantic General Campaign for the Future, which included support for the construction of the center on the hospital's campus in Berlin. The cancer center was named in his honor in recognition of his philanthropic and leadership support.
Watch Jack's message about why the Burbage Regional Cancer Care Center is so important to him.
Burbage, is principal of Blue Water Development, a West Ocean City-based real estate development company responsible for significant economic growth on the Eastern Shore.
Since its beginning, with Burbage at the helm, Blue Water Development has built a reputation for quality, reliability and trustworthiness. Because of those attributes, it grew at an incredible pace in only a few years. Burbage started out working at The Style Guide clothing store in Berlin, his hometown. Under his leadership, the business grew into a chain of stores in Maryland and Delaware.
Along the way, he acquired real estate.
After purchasing property in Delaware, Burbage bought Mystic Harbour in West Ocean City in 1991. It was his first major acquisition in Maryland. Although the property, with its 180 houses, had a failing septic plant, he focused on the future, realizing its potential for an improved wastewater system and increased development to serve the needs of a burgeoning population in the area.
"It just grew," Burbage said. "The real estate just grew. And then we started doing subdivisions because we had the water and the sewer to do it with."
With his sons, John III and Todd, Burbage developed three subdivisions, Deer Point, Ocean Reef and Whispering Woods, in addition to two commercial properties, Decatur Business Center and Seaside Village, all in West Ocean City.
After purchasing Castaways Campground, also in West Ocean City, they focused on the hospitality industry. Now, Blue Water Development Corporation owns five upscale campgrounds, Chesapeake Bay and Chincoteague Island KOA in Virginia, The Resort at Massey's Landing in Delaware, Flat Rock Bridge Family Camping in Maine and, Hampton Inn Lodge in North Carolina. They also own six hotels, Bethany Beach Ocean Suites & Holiday Inn Express in Delaware, The Commander Hotel, Atlantic OceanFront Inn and Aloft Hotel in Ocean City, Md. and, the Fairfield Inn & Suites Chincoteague in Virginia. This expanding portfolio also includes three recreational venues: Blue Water Golf, Maui Jack's Waterpark in Chincoteague, VA. and, Sea Rocket Adventures in Ocean City, Maryland.
As the company grows, Burbage remains an active partner, but he is gradually retiring from the day-to-day obligations and "passing the baton" to Todd. With his son running the business, Burbage predicts Blue Water Development will become the fastest growing company on Delmarva.
In addition to serving 30 years on the board of directors of Berlin-based Taylor Bank, also serves on the board of directors of Diakonia, a crisis shelter facility in West Ocean City. In 2013, Burbage received the Franklin P. Perdue School of Business Leadership Award and in 2015, the Hal Glick Distinguished Service Award. More recently, Burbage was honored with the Ocean City Chamber of Commerce Lifetime Achievement Award.