Anniversary Celebration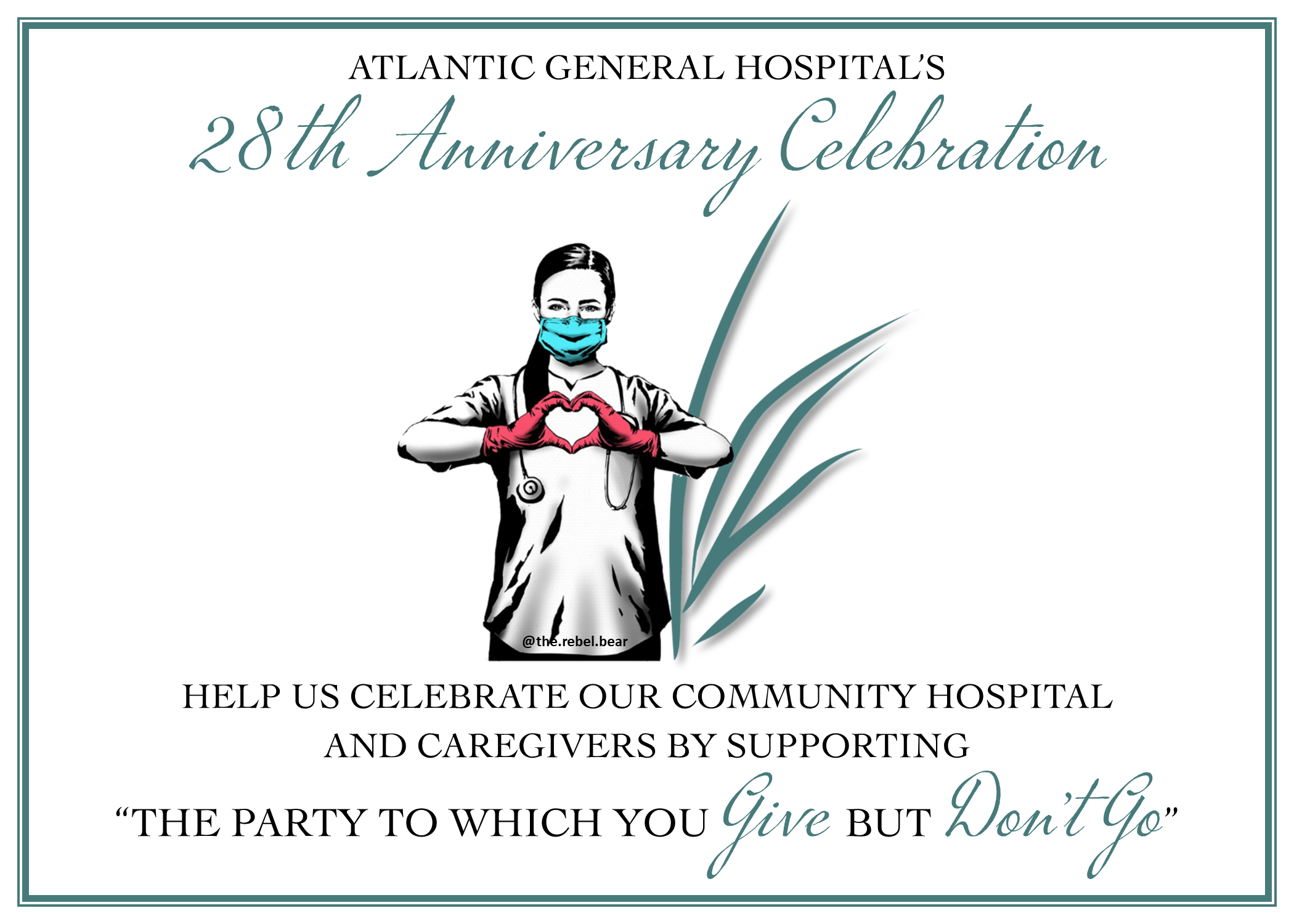 Atlantic General Hospital's 28th Anniversary Celebration
"THE PARTY TO WHICH YOU GIVE BUT DON'T GO"
Atlantic General Hospital Foundation is preparing to present one of its largest annual fundraising events, the Anniversary Celebration. This is a very special occasion for Atlantic General Hospital as it is a time when traditionally we would have come together to celebrate the anniversary of when the hospital first opened its doors on May 21, 1993.
As we continue to prioritize the health and safety of our community, we have reimagined the 28th Anniversary Celebration as "The Party to Which You Give but Don't Go" and your support of this year's fundraiser is more important than ever. The healthcare industry was hit hard by the COVID-19 pandemic, and our local community hospital is no exception. Throughout the COVID-19 emergency, it has increasingly become more evident that supporting our healthcare workers and ensuring the future of quality healthcare at Atlantic General Hospital is so critical for our community.
All proceeds benefit Atlantic General Hospital Foundation, a 501(c)(3) organization, and all gifts are tax-deductible as allowed by law. Without the overhead and expenses of a traditional in-person party, all donations to Atlantic General Hospital's 28th Anniversary Celebration are 100% tax-deductible and 100% of the funds raised will go directly to support Atlantic General Hospital's mission to provide a coordinated care system with access to quality care, personalized service and education to create a healthy community.
CLICK HERE TO VISIT THE EVENT WEBSITE
Thank You to Our 28th Anniversary Celebration Sponsors
(last updated 6/3/2021)
LEGACY SPONSOR
Kelly Foods Corporation
for 17 Consecutive Years as Title Sponsor
PREMIER SPONSORS
George & Emily Tunis - Hardwire
Myers Family
Yard Designs
BENEFACTOR SPONSORS
Global Reimbursement Consultants
Kathy & Mike Marshall
Park Place Jewelers
Rayne's Sand & Gravel, Inc.
CHAMPION SPONSORS
AGH Auxiliary
AGH Medical Staff
Bank of Ocean City
Duffie Boatworks, LLC
Esham Family Limited Partnership
Frost Law
Humphrey Rich Construction Group, Inc.
InterMed Group
Buddy & Laura Jenkins / Joan W. Jenkins Foundation
Pool Tech, Inc.
Quest Diagnostics
Taylor Bank
PATRON SPONSORS
Allen + Shariff Engineering
Dick & Ellen Bunting
Dale and Charlotte Cathell
Coastal Life Realty Group
Deeley Insurance Group
Delmarva Public Media
Sally H. Dowling, M.D. and Family
Eugene B. Casey Foundation
Faw, Casson & Co., LLP
Beth Gismondi
Lilah C. Gonzalez, MD
Steve & Kathy Hearne
Tom & Beth Hershey
Home Instead
Jack Burbage Foundation
Dr. Lee & Jennifer Klepper
Kohler Healthcare Consulting, Inc.
Mark & Donna Leiner in honor of Dr. Edwin Castaneda
M&T Bank
Rich & Laura Mathabel
Matthew Farr Law
R. Charles Nichols
Tom & Doris O'Keefe
Ocean City Elks Lodge #2645
Ocean Terrace Family Apartments - Viola Candeloro
Oceans East Luxury Apartment Homes
Peninsula Imaging, LLC
Jim & Jan Perdue
Pickles Pub of OC LLC
Christine C. Rayne and W. Tim Rayne, Jr.
Sello's of OC LLC
Shenanigan's Irish Pub
Greg & Eileen Stamnas
G. Marvin & Beverly Steen
The Bank of Delmarva
The Campbell Foundation
The Dispatch
The SeaBoard - Jake & Meeghan Robinson
The Warfield Family in memory of Bob Warfield
The Whiting-Turner Contracting Company
Bobby Vermillion & Angela Vermillion
Geri & Milt Warren
Elsie & Bill Weistling of Fenwick Island
John & Gail Whaley
Kemp Wills & William Hatala
CONTRIBUTING SPONSORS
Atlantic Dental Cosmetic & Family Dentistry
Avery Hall Insurance Group
Beachwood Inc.
Bergey & Company, P.A.
Dave & Ann Bruning
Viola P. Candeloro & Family
Carey Distributors Inc.
Centric Business Systems
Charles T. Capute, LLC
Chesapeake Utilities
Bruce & Cheryl Clark
Coastal Resort Sales and Rentals / Embrace Home Loans
JL & Hugh Cropper IV
Susan & Hugh Cropper III
DePalma Dental
Mark & Kathy Drew
Gillis Gilkerson
Harold B. Gordy
W. Todd Hershey
Mr. & Mrs. Christopher Hoen
Nancy L. Howard
Max Hutsell & Courtney McWilliams-Hutsell
K.B. Coldiron, Inc.
Kirby's Pub 94th St. OCMD
Jay & Mary Lynn Knerr
Legendary Leaderboards, Inc.
Longboard Cafe
Mr. & Mrs. Hunter "Bunk" Mann
Mann Properties
Marshall Hotels & Resorts
Claudia Nicholls / State Farm Ins
Raymond C. Nichols
O.C. Seacrets, Inc
Pivot Physical Therapy
Procino-Wells & Woodland, LLC
Provident State Bank
Dorothy J. Rolfe
Pete & Royette Shepherd
Lois A. Sirman
Snowden Lane Partners
Southside Deli Ocean Pines
Mr. & Mrs. David Speier
Jeff & Rina Thaler
Kevin Hodge & Theoni Rapo of The Federal Savings Bank
Dr. Stephen & Ellen Waters
Wilmington University
Robert & Janet Wolfing
AUCTION SPONSORS
Alyssa Maloof / The Mermaid Museum
Bluewater Development
Bob Kelly / Kelly Foods
Bryan and Nicole Brushmiller
Buddy Sass / Ocean City Golf Club
Captain Danny McDorman
Chef Vern Smith and Karen & Pino Tomasello
Chloe McKenna
Christine Glick
Crabs to Go
David and Patricia Ilczuk Shaffer
Delmarva Shorebirds
Elite Island Resorts
Eric Mihaly, April Gershenfeld, and Basil Hanlon
Janie Bunting Kendal and Julie Bunting Smith
Judy Wilbur
Malibu's Surf Shop
Marcia Darlene Keresztenyi
Mark Darby, Sharon Harcum and Seth Hetherington
Matt and Brooke Borrelli
Maya Tomasello
Pam & Andrew Adkins / Bayville Package Store
Paul and Kay Schrum
Robin Tomaselli
Rommel's Ace Hardware
Ron & Sheila Croker
Sara and David Hambury / West-O Bottle Shop
Scott Kimmel
Sea Level Designs
SeaBoard Media
Sean Coughlin
Suzy & Steven Taylor
Taste Events & Off the Hook Restaurant Group
Tom Ruark and Kim Ruark Mihaly
All Proceeds Benefit Atlantic General Hospital Foundation.
For more information, please contact Joy Stokes, Event Coordinator
at (410) 641-9671 or Email Us Here.
---
28th Anniversary Celebration Committee
Emily Tunis and Sara Hambury, Co-Chairs
Pamela Adkins
Sonia Baker
Chris Butler
Danielle Caine
Jamie Caine
Samantha Cameron
Eric Chaplin
Lisa Cook
Eric Cropper
Jennifer "JL" Cropper
M. Kathy Drew
Aaron L. Finney
Morgan Fisher
April Gershenfeld
Matthew Giardina
Beth Gismondi
Christine Glick
Justin Gray
Jessica Hales
Robert Hammond
Basil Hanlon
Madalaine How
Jessica Jersey
Meegan Jayne Kennedy
Kathy Marshall
Laura Mathabel
Christine McCoy
Kevin Myers
Jodie Noonan
Mark Odachowski
Dawne Pappas
Pete Resnick
Meeghan Robinson
Steven Sweigert
Eileen Taglienti
Karen Tomasello
Ellen Waters
Gail Whaley
Ryan Whittington
Todd Ferrante, AGH Foundation Board Chair
Toni Keiser, VP Public Relations
Caroline Phillips, Development Officer
Kam LaBrunda, Development Analyst/Coordinator
Joy Stokes, Event Coordinator/Development Assistant