Anniversary Celebration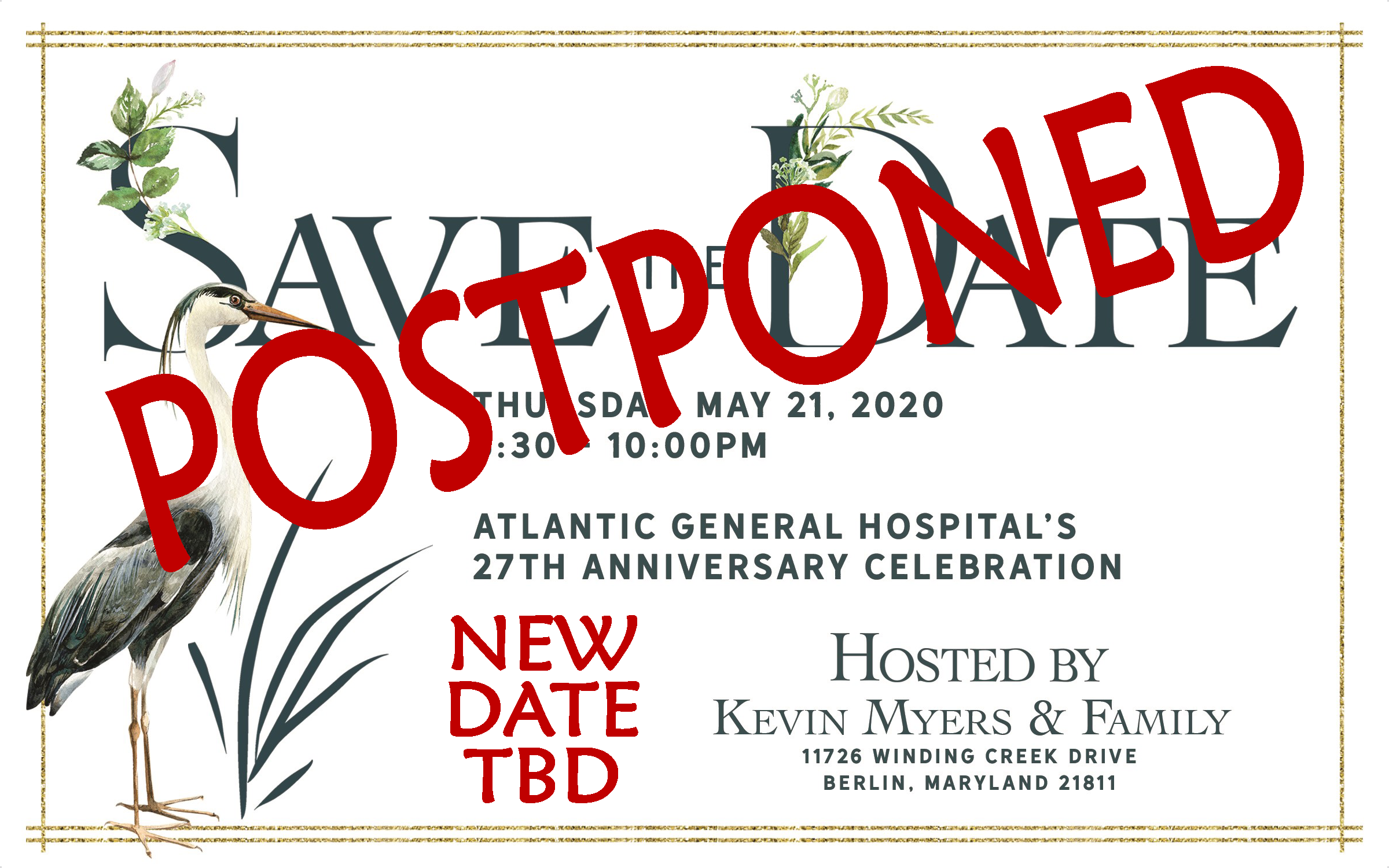 Atlantic General Hospital's 27th Anniversary Celebration has been postponed due to COVID-19.
A new date will be announced at a later time.
Thank You to Our 27th Anniversary Celebration Sponsors
(last updated 3/13/2020)
LEGACY SPONSOR
Kelly Foods Corporation for 16 Consecutive Years
EAGLE SPONSORS
HERON SPONSORS
OSPREY SPONSORS
PELICAN SPONSORS
SEAGULL SPONSORS
BEVERAGE SPONSORS
CATERING SPONSORS
Taste Events
LIVE ENTERTAINMENT
The Larks
Proceeds from the event benefit the Atlantic General Hospital Foundation.
Purchase Admissions or Submit Sponsorship Online
For more information, please contact Joy Stokes, Event Coordinator
at (410) 641-9671 or Email Us Here.
---
27th Anniversary Celebration Committee
Emily Tunis and Sara Hambury, Co-Chairs
Pamela Adkins
Kevin Andrade
Rob Arlett
Sonia Baker
Chris Butler
Samantha Cameron
Eric Chaplin
Lisa Cook
Jennifer "JL" Cropper
Eric Cropper
Nancy Dofflemyer
M. Kathy Drew
Trond Emberland
Michelle Fager
Patricia Falck
Aaron L. Finney
April Gershenfeld
Matthew Giardina
Beth Gismondi
Christine Glick
Justin Gray
Jessica Hales
Robert Hammond
Jennifer Hershey
Madalaine How
Mary Knight
Kathy Marshall
Laura Mathabel
Christine McCoy
Jodie Noonan
Mark Odachowski
Lori O'Malley
Dawne Pappas
Virginia Pappas
Pete Resnick
Meeghan Robinson
Michelle Smethurst
Steven Sweigert
Eileen Taglienti
Ellen Waters
Gail Whaley
Ryan Whittington
Todd Ferrante, AGH Foundation Board Chair
Toni Keiser, VP Public Relations
Caroline Phillips, Development Officer
Kam LaBrunda, Development Analyst/Coordinator
Joy Stokes, Event Coordinator/Development Assistant