Anniversary Celebration
Atlantic General Hospital's 29th Anniversary Celebration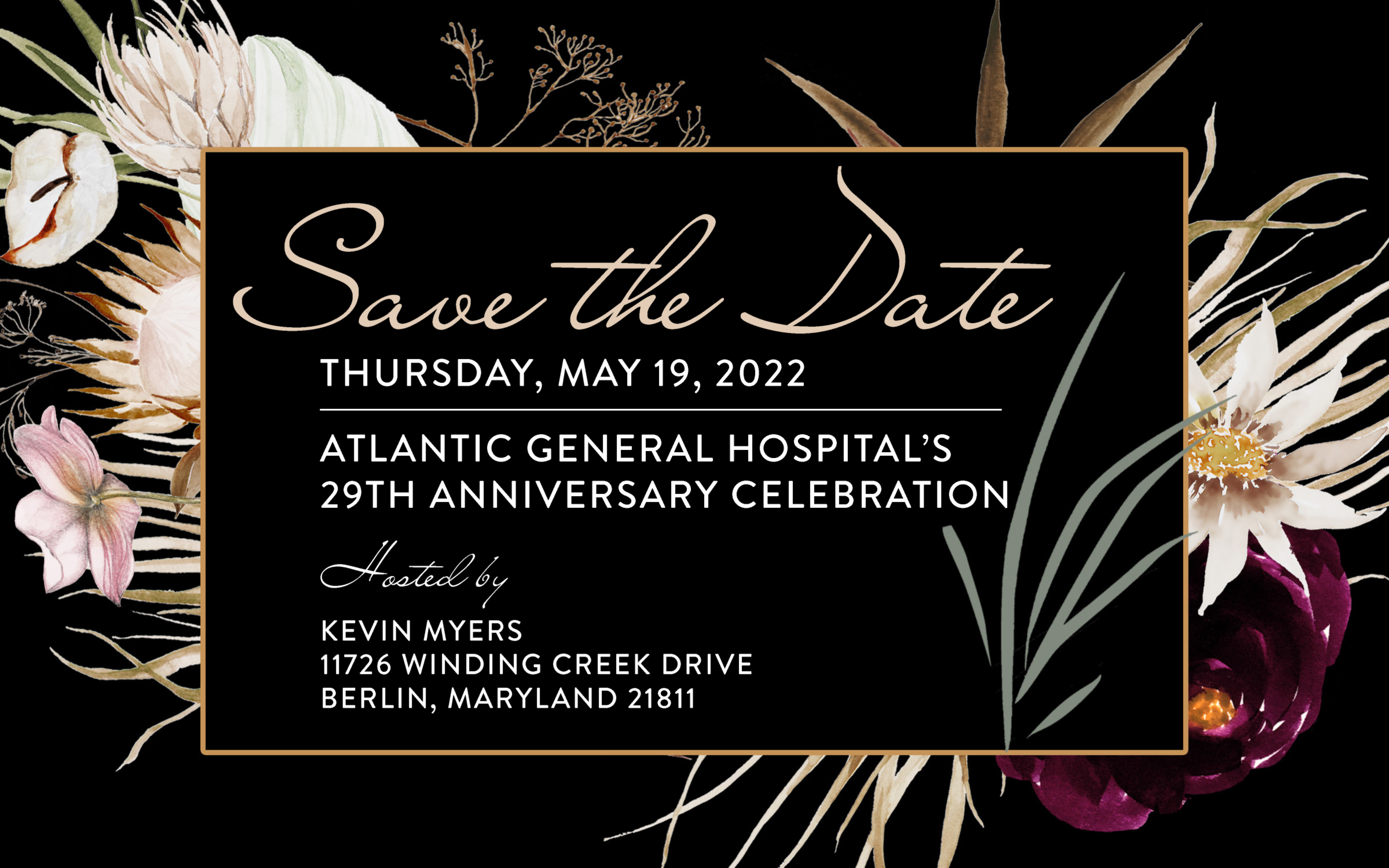 Atlantic General Hospital Foundation is preparing to present one of its largest annual fundraising events, the Anniversary Celebration. This is a very special occasion for Atlantic General Hospital as it is a time when we come together to celebrate the anniversary of when the hospital first opened its doors on May 21, 1993.
CLICK HERE TO VISIT THE EVENT WEBSITE
Thank You to Our 29th Anniversary Celebration Sponsors
(last updated 5/17/2022)
LEGACY SPONSOR
Kelly Foods Corporation
for 18 Consecutive Years as Title Sponsor
DIAMOND SPONSORS
Blue Water Development Corp.
Gebhardt & Smith LLP
Emily & George Tunis - Hardwire, LLC
Myers Family Foundation
Sun Communities
Taste Events
Yard Designs, Inc.
PLATINUM SPONSORS
AGH Auxiliary
Delmarva Spine and Pain
Global Reimbursement Consultants
Humphrey Rich Construction Group
Justin Kozera & Movement Mortgage
Ocean Downs Casino
Sina Companies, LLC
West-O Bottle Shop & Bar
GOLD SPONSORS
AGH Medical Staff
Applied Equipment Solutions
Bank of Ocean City
Berkeley Research Group, LLC
Cato Gas & Oil
Coastal Tented Events
JL & Hugh Cropper and Lisa D. Sparks
Delegate Wayne Hartman
Delmarva Public Media
Duffie Boatworks
Elaine G. Nichols Foundation
Esham Family Properties
Frost Law
Gallagher Evelius & Jones LLP
Hardwire, LLC
Joan W. Jenkins Foundation
Peninsula Imaging
SeaBoard Media
Shore United Bank
Dr. Greg & Eileen Stamnas, Alex & James Whitlock
Taylor Bank
SILVER SPONSORS
Allscripts Healthcare Solutions Inc.
Alyssa Maloof Photography
Campos Media
Carey Distributors, Inc.
Drs. Cory & Joan Carpenter
Dale & Charlotte Cathell
Coastal Hospice
Cropper's Towing
Deeley Insurance Group
Dr. and Mrs. Brian DelliGatti
The Dispatch
Sally H. Dowling M.D. and Family
Farmers Bank of Willards
Matthew Farr Attorney at Law
Faw Casson & Co LLP
Flowers by Alison
Dr. Lilah C. Gonzalez
Guerrieri Family Foundation
Dr. Steven Hearne
Beth & Tom Hershey
Chris & Jennifer Hoen
Home Instead
Impact Home Technology
Dr. Manoj Jain & Dr. Sughanda Khanna
Kirby's Pub
Dr. Lee Klepper & Mrs. Klepper
John B. Lynch, Jr.
M&T Bank
Maronick Law, LLC
Marshall Hotels & Resorts
Richard & Laura Mathabel
McAllister DeTar Showalter & Walker LLC
Monkee's of Ocean City
Dr. Nicastro & Dr. Mancilla
OC Floor Gallery
OC Kayak
Ossotech Medical Device Distribution
Park Place Jewelers - Todd, Jill, & Sophia Ferrante
Jim & Jan Perdue
Pickles Pub of OC
PKS & Company, P.A.
Pool Tech, Inc.
Dr. and Mrs. Clayton Raab
Christine C. Rayne & Wm. Tim Rayne Jr.
RJB LAW, LLC
Sello's Italian Oven
Greg, Susie, Noah & Brody Shockley
Shuttles by Taxi Taxi
G. Marvin & Beverly Steen
Sysco Eastern Maryland
Jeff & Rina Thaler
The Bank of Delmarva
The Kite Loft
Margaret Warfield & Family
Dr. Stephen & Ellen Waters
Gail Jarvis Whaley
Whiting-Turner Contracting Company
Willow Construction, LLC
Kemp Wills & William Hatala
BRONZE SPONSORS
Allen + Shariff Corporation
Atlantic Dental Cosmetic & Family Dentistry
Centric Business Systems
Coastal Life Realty Group
Coastal Smokehouse
Bill & Cathryn Corey
Mark and Kathy Drew
Beth Gismondi
Nancy L. Howard
Courtney and Max Hutsell
Kohler Healthcare Consulting, Inc.
KRW Auto & Golf Cart Sales
Arlene Linn
Long Life Treated Wood, Inc.
Joseph & Susan Moore
Provident State Bank
Redstone Investments
Dorothy J. Rolfe
SIG
State Farm Insurance - Claudia Nicholls
The Original Greene Turtle
Wilmington University
BEVERAGE SPONSORS
Coastal Coffee Roasting
Coca-Cola Consolidated
George's Beverage Company
Harborside Bar & Grill
West-O Bottle Shop & Bar
All Proceeds Benefit Atlantic General Hospital Foundation.
For more information, please contact the Foundation office
at (410) 641-9858 or Email Us Here.
---
29th Anniversary Celebration Committee
Emily Tunis and Sara Hambury, Co-Chairs
Pamela Adkins
Sonia Baker
Chris Butler
Danielle Caine
Jamie Caine
Eric Chaplin
Lisa Cook
Jennifer "JL" Cropper
Kathy Damato
Sarah DelliGatti
Sarah Evans
Aaron L. Finney
Morgan Fisher
Matthew Giardina
Jessica Hales
Robert Hammond
Madalaine How
Jessica Jersey
Meegan Kennedy
Jennifer Kraueter
Kathy Marshall
Laura Mathabel
Kevin Myers
Cate Nellans
Dawne Pappas
Meeghan Robinson
Steven Sweigert
Karen Tomasello
Ellen Waters
Gail Whaley
Ryan Whittington

Steve Green, AGH Foundation Board Chair
Toni Keiser, VP Public Relations
Kam LaBrunda, Foundation Grants/Operations Officer