Volunteer Opportunities
Atlantic General Hospital offers an abundance of ways you can volunteer.
Listed below are the opportunities you can choose from. If you are unsure what area would be the best fit for you, we can help you choose!
Ambulatory Services and Endoscopy Center
While volunteers in our Ambulatory Surgery Unit and Endoscopy Center do not provide medical care or advice, they do play an important role in the overall quality of service provided to both patients and families. Volunteers work closely with and under the direction of the nursing staff in admitting, discharging, transporting and other patient services as needed.

ER
Auxiliary members who volunteer in this area work with Doctors, Nurses and Nurse Technicians. They perform the tasks that allow these professionals to help resolve the health concerns of our patients. Tasks can include cleaning and preparing stretchers, transporting patients to imaging, checking on patients comfort and being available for any other help our professionals need. The activity level can change quickly since our patients do not plan for an emergency visit. Patients arrive needing help and we assist in them getting it. Our reward is priceless.

AGH RediScripts on-site pharmacy
Providing first-fill prescriptions to discharging patients and full prescription services to AGH associates, medical staff and volunteers.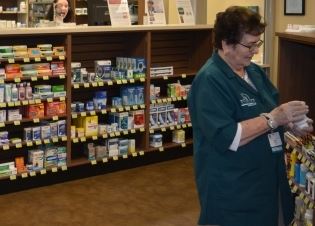 Capable of learning how to operate a cash register.
Ability to:
Do a moderate amount of walking and standing
Comprehend oral and written instructions
Make mature and sound judgments
Keep confidential, all aspects of patients, physicians and staff
Good communication and interpersonal skills
Support Services
We also have volunteers that help in many of the support areas of the hospital and health system including Medical records, Case Management, Nutrition Services, our Wound Care Center, Imaging, Education, Administration, Public Relations, Atlantic Health Center, Fundraising, Patient Accounting, Finance, and Materials Management departments. Responsibilities in these area range from assisting staff with filing patient information and claims data to stocking linen, keeping our blanker warmer adequately full, transporting and escorting patients, grounds maintenance, entering data in to spreadsheets, delivering supplies and basic clerical work.

Information Desk
The volunteers at the Information Front Desk screen visitors, issue hospital passes and provide directions or escort to the patient's room. Upon request the patient is assisted in filling out a medical form which ensures patient confidentiality. Some additional activities of the volunteers include delivery of the daily newspaper, meals, flowers and any other activities to assist the front desk receptionist. Skills needed: excellent communication including listening, compassion, responsiveness, and patience and attention to detail.

Concierge Services
We provide patients with a bit of companionship and an act as an extra set of eyes for the nurse. It is the perfect environment to directly help our patients. The job demands being on your feet most of the time with making beds, filling water pitchers, delivering food trays, and filling glove boxes. But there is always time to talk with the patients and more importantly provide that special TLC of listening and providing companionship.

Registration
This is the position for the active volunteers. Our volunteers escort patients to the lab for blood work and the imaging department for scheduled and unscheduled tests. Additionally volunteers in this area accompany or direct family members to the Fast Track and Emergency room areas. We also assist the associates with any tasks that will allow them to focus on their workload. If there are any missing wheel chairs, our volunteers use their detective skills to find them.

Retired Nurses
The retired nurse's duties include patient pre-op and post op calls, follow up calls from patients who have had a stay in AGH, chart review and assisting with the Flu Clinics. None of the duties are invasive, but all have the goals of making the patient's hospital stay less stressful by keeping the line of communication open between the patient and his or her caregiver. In essence, the Retired Nurse is an extension of the nurse. We request that volunteer applicants for this area have at one time obtained a nursing license.

Surgical Liaison
This team assists the professional staff of the Surgical Services Department and provides information to family members, friends and patients as directed. It is the policy of the hospital to provide unit orientation and training for all volunteers.

Thrift Shop

The Thrift Shop is staffed by AGH Auxiliary members that manage every aspect. The Thrift Shop includes a Sales Floor Staff, Cashiers, a Merchandise Sorting and Pricing Team, and Store Decorators. As the Thrift Shop continues to grow and expand, there is always the need for additional volunteers. If you like to give back to your community and enjoy working in a fun retail environment, the Thrift Shop provides this opportunity.