Relishing the Gift of Improved Mobility & Quality of Life
Author: Frank and Dee Creamer
Date Submitted: Jun 15, 2016
Category: Atlantic Success Stories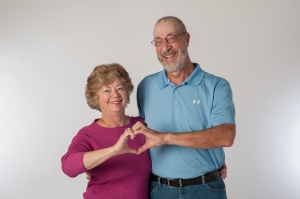 Frank says it best: "My quality of life has drastically improved! I now have been able to resume my previous lifestyle and more. I wish I had made the decision to have the surgery sooner, and would not even blink an eye to have the other knee done by Atlantic Orthopaedics if the time came to do so."
Joint surgery is a decision not to be taken lightly, and when you are faced with the need for it, you require the support of friends and family. We all know, even when we're healthy, it is most comfortable to be in your element – in your own community, surrounded by those you know and see regularly, and loved ones of course. So when Frank and Dee Creamer of Ocean Pines had both come to the realization that it was time for a knee replacement, they did their research and opted to stay local choosing the Center for Joint Surgery at Atlantic General Hospital, allowing them to recover and do the post-op rehab in their hometown.
Facing the pain
Frank and Dee lead an active life, so when the pain began to set in and progressively got worse, they both made the tough but wise decision to turn to the Center for Joint Surgery. For Frank, pain in his knee began just over a decade ago and as it became harder to do the activities he's so used to doing – participating in racquet sports for one – he said he was surely not ready to switch to a sedentary lifestyle and made the choice to discuss options with his orthopedic provider. For Dee, the pain was attributed to severe arthritis in the knee and she needed some attention to get back to the activities she loves.
Feeling limited
Frank, a self-professed "racquet junky" who plays tennis, platform tennis, ping-pong and pickleball, said the limitations from knee pain became unacceptable. He was not able to move freely and comfortably on the courts, and walking even became very difficult. Dee, active in Zumba and aerobics, was finding those beloved activities hard to bear.
"I began to decline when friends invited me to go walk the boardwalk or around the lake," added Dee. Then, eventually, trips to the grocery and shopping were painful and difficult.
Taking Action
Frank and Dee both shared that their past positive experiences with Atlantic General Hospital and Health System are what ultimately led them to have their knee surgeries performed there as well. Both have had routine healthcare through the hospital for several years, and always felt confident in the staff and well cared for. Frank added that his surgeon, Dr. Philip Spinuzza, first helped him try alternative solutions, "which were only Band-Aids to a more serious problem. I asked two questions that made me realize Dr. Spinuzza was the surgeon for me. First, I asked, 'is it time to have this joint replacement surgery?' His answer, 'you will come to me and tell me it's time.' Second, I asked if I should get another opinion on the right course of treatment. Dr. Spinuzza answered that he wouldn't let his ego get in the way of him doing what was best for the patient."
Dee felt just as strongly as Frank that her surgeon for a partial knee replacement, Dr. Eric Bontempo, who practices with Dr. Spinuzza, was the right choice. The support and guidance of their physicians at Atlantic Orthopaedics sealed the deal, and the Center for Joint Surgery was the right place for them at the right time.
Being cared for by the AGH care.givers
Frank has nothing but positive things to say about his surgery experience back in February 2014, from the pre-surgery class to post-surgery and recovery; he felt well cared for and well informed about the whole process. The class gave insight into how the procedure would go and answered all of Frank's questions about it, leaving him feeling well informed and at ease.
On the day of surgery, the clinical staff were ready and willing to help in any way necessary. The process from start to finish went smoothly and left Frank and Dee feeling confident in their choice. Frank had his surgery first, and then Dee had hers in November 2015 after Frank had healed and returned to his active lifestyle. Dee also shared that the nurses on the night shift were so attentive and kind, always checking in to be sure their patients were cared for.
Back on the court & dance floor

Frank says it best: "My quality of life has drastically improved! I now have been able to resume my previous lifestyle and more. I wish I had made the decision to have the surgery sooner, and would not even blink an eye to have the other knee done by Atlantic Orthopaedics if the time came to do so."
As for Dee, she is getting the spring back in her step as well. With her surgery being a bit more recent, she is now experiencing pain free walks and is looking forward to starting aerobics in spring.
Receiving the gift of activity again
Prior to surgery, pain drastically reduced Frank's ability to participate in his normal sports activities. Completely healed, he has now resumed his beloved racquet sports, playing at a level he once thought might never be possible to resume. This year he played pickleball in the "National Senior Games" in Minnesota, finishing 9th in the country! On top of that he has signed up for the "Beach to Bay" bicycle ride in April with his bike club and can now play golf and walk the course if the mood strikes.
Not only is Dee back to walking pain free, but she's also taking line dancing classes. The Creamers are an active couple living fully, with the help of a positive outlook, hard work and determination, and the Center for Joint Surgery at Atlantic General Hospital.
Are you suffering with knee or hip pain?
Call the care navigator at the Center for Joint Surgery (http://www.atlanticgeneral.org/Our-Services/Orthopedics-Joint-Surgery.aspx) at Atlantic General Hospital to learn more about your treatment options. The number is (410) 641-9189.