Phil F.
Author: Phil
Date Submitted: Jun 30, 2015
Category: Atlantic Success Stories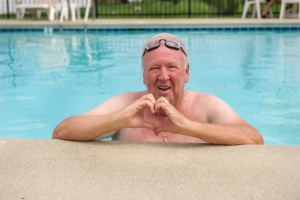 "They treat you like family."
When Ocean View retiree Phil discovered he had colon cancer, he found he could rely on the
medical staff at the Regional Cancer Care Center to make him healthy again.
The Regional Cancer Care Center patient navigator helped coordinate Phil's surgery and his chemotherapy treatment.
"You couldn't ask for a better group of people. It was like being with my own family," Phil emphasizes.
With his treatment finished, Phil is back to swimming and working out at the gym. Successes like this are what we do for patients every day.
The Regional Cancer Care Center
At the Regional Cancer Care Center in Berlin, MD, we know that cancer care is about so much more than medical treatment. We're sensitive to each patient's emotional and mental state, in addition to the needs and wishes of family members and other caregivers. We are committed to ensuring that each patient receives quality, holistic treatment for the best outcomes. Same-day and next-day appointments are available for individuals just diagnosed with cancer.
To learn more or to schedule an appointment, call (410) 629-6888. Visit us at www.atlanticgeneral.org/cancercare.