Pete M.
Author: Pete Marshall
Date Submitted: Jun 30, 2015
Category: Atlantic Success Stories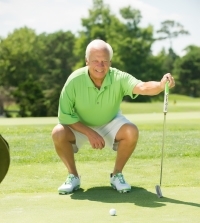 "You hit a grand slam!"
Ocean View resident Pete Marshall planned to play a lot of golf during retirement. But that dream seemed far off when one of his knees starting giving him real trouble.
When therapy failed to relieve his discomfort, Pete's next option was having a knee replacement at AGH's Center for Joint Surgery. He had such a positive experience, two years later AGH was the natural choice again when Pete's other knee started to become a problem.
Pete raves about how he didn't experience any pain or nausea following each surgery and breezed through recovery. But the care and warmth of the staff is what made the biggest impression. "You hit a grand slam!" Pete says of the staff.
We're happy to see Pete Marshall back on the golf course. We're ready to help you enjoy an active lifestyle again, too.