Screening and Prevention
Atlantic General Hospital and the Burbage Regional Cancer Care Center have multiple programs in place for prevention education and early screening to reduce the incidence and mortality of cancer on the Eastern Shore of Maryland.
Lung Cancer Screening at AGH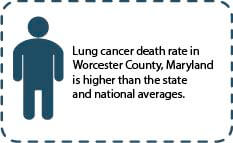 The lung cancer death rate of Maryland residents has been falling. It's currently lower than the nation. Yet, the death rate of Worcester County residents continues to be higher than those of both the state of Maryland and the United States.
Discovering and diagnosing cancer early is the goal with all cancer types, which is why screening for specific types of cancer before patients have any symptoms of their cancer is so vital. The United States Preventative Services Task Force recommends an annual screening for lung cancer with low-dose computed tomography (LDCT), for those patients at greatest risk of developing lung cancer.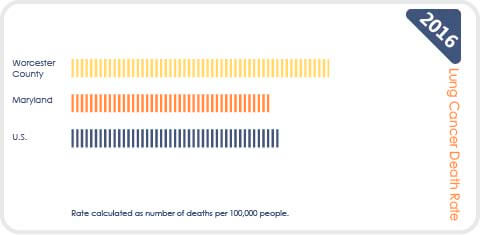 Our goal is to screen those community members who are at the greatest risk and to identify the lung cancer at an early stage so that it can be successfully treated, and thus decrease the number of Worcester County residents dying from lung cancer. The test used to detect lung cancer is low-dose computed tomography (also called a low-dose CT scan, or LDCT). In this test, an x-ray machine scans the body and uses low doses of radiation to make a series of detailed pictures of the lungs.
These pictures are then reviewed by a radiologist and assigned to a risk category. The risk category for each lung screening patient is communicated directly to the patient's primary care provider as well as our lung cancer screening coordinator. This follow up process ensures that each patient and their provider are aware of their risk for lung cancer and have an appropriate follow up plan.

Late in 2014, AGH began the lung cancer screening program, and at the end of that year, 88% of the patients diagnosed with lung cancer were diagnosed at the most advanced stage. That percentage decreased to 65% at the end of 2015, and then decreased again at the end of 2016 to only 40% of lung cancer patients being diagnosed at the most advanced stage.
While the LDCT program at AGH is still a young program, with only three years of patient data, we are hopeful that this screening tool will help us to diagnose lung cancer patients at an earlier stage. Because this early detection tool is an important addition to our community, we have decided to expand the number of days per month that we offer this lung screening.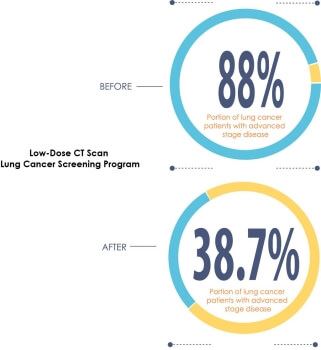 In 2017, 271 patients participated in low-dose CT screening for lung cancer and continue to be followed at appropriate intervals. Those patients diagnosed with lung cancer as a result of being screened were diagnosed at an earlier stage with a much better prognosis.
Melanoma Prevention
Melanoma, the most dangerous form of skin cancer, is rising in Maryland; it is the third fastest rising cancer in our state. Even worse, Worcester County has the highest rate of new melanoma diagnoses in Maryland. It is almost double the national average.

According to the Centers for Disease Control and Prevention (CDC), ultraviolet (UV) exposure causes more than 90% of melanoma in the US. They recommend the use of effective health education and outreach to encourage populations to reduce UV radiation exposure and increase sun protection. These measures are found to be one of the best ways to prevent the disease.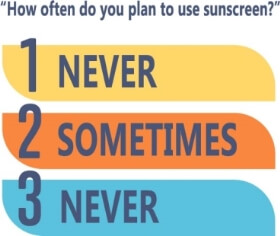 Dermascan is an awareness tool Atlantic General uses in the community that shows the participant sun damage on his or her face that cannot be seen with the naked eye. It is a specially designed, curtained box with a black light and a mirror inside so the person can see his or her own face. The outreach provider can look from the other side and explain to the participant what they are seeing and point out what might be a result of exposure to the sun.
The participant is asked before viewing his or her face in the Dermascan, "How often do you currently use sunscreen?" Then, after looking in the Dermascan box and receiving education about sun damage, they are asked, "After looking at your skin, how often do you plan to use sunscreen?" Respondents could choose from Never, Sometimes and Always.
It is intended there will be a verbal intent of a behavior change/improvement (if one is needed).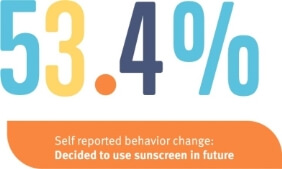 Data Sources:
Incidence data are provided by the National Program of Cancer Registries Cancer Surveillance System (NPCR-CSS), Centers for Disease Control and Prevention and by the National Cancer Institute's Surveillance, Epidemiology, and End Results (SEER) Program.