Ocean Pines Swim Team Delivers Plush Toys to the Atlantic General Hospital Emergency Department
Berlin, Md. –
Members of the Ocean Pines Hammerheads swim team joined Coach Brooks Ensor in delivering over sixty plush toys to the Emergency Department recently to be given to children that might be spending their holiday there.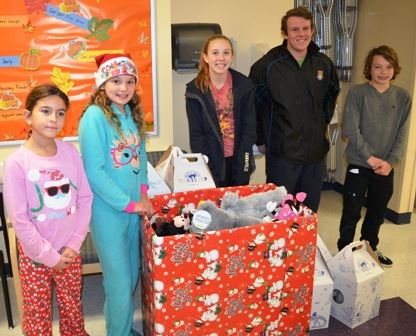 Photo caption:
Ocean Pines swim team members gather around the box of over sixty plush toys collected and donated to the hospital ER.

To learn more about the Ocean Pines Hammerheads swim team visit https://www.teamunify.com/Home.jsp?team=recdsaopst.
About Atlantic General Hospital
Atlantic General Hospital has been providing quality health care to the residents of Worcester, Wicomico, Somerset (Md.) and Sussex (Del.) counties since May 1993. Built by the commitment and generosity of a dedicated community, the hospital's state-of-the-art facility in Berlin, Md., combines old-fashioned personal attention with the latest in technology and services. It provides quality specialty care such as weight loss surgery, orthopedics, outpatient infusion for individuals with cancer or blood/autoimmune disorders, retina surgery and a comprehensive women's diagnostic center. Atlantic General Health System, its network of more than 40 primary care providers and specialists, care for residents and visitors throughout the region. For more information about Atlantic General Hospital, visit www.atlanticgeneral.org.