Award-Winning Care
Atlantic General Hospital - Serving Maryland & Delaware Since 1993
At Atlantic General Hospital, our community is our focus. Our commitment to the individuals we treat is proven in our consistent excellence, and we are recognized in our field through numerous awards. Some of the awards we have received include:
Awards Received
ACR Lung Cancer Screening Center
Designation received in 2014:
This designation from the American College of Radiology (ACR) is awarded only to centers that earn accreditation in the chest module and meet or exceed ACR Lung Cancer Screening Committee facility requirements.
Guardian of Excellence Award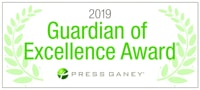 The John H. 'Jack' Burbage, Jr. Regional Cancer Care Center was named a 2019 Guardian of Excellence Award® winner by Press Ganey Associates. This award recognizes top-performing health
care organizations that have achieved performance at the 95th percentile or higher in key measurement categories.
The Press Ganey award is a nationally recognized symbol of achievement. Presented annually, the award honors health care facilities that have consistently sustained performance in the top 5% of all Press Ganey clients for each reporting period during the course of the year. Of nearly 380 cancer
treatment facilities measured, AGH's Burbage Regional Cancer Care Center ranked in the 95th percentile for "care given at this facility."
ACR Ultrasound Accredited Facility
Ultrasound Accredited facility 2014:
Atlantic General Hospital has been awarded another three-year term of accreditation in ultrasound as the result of an extensive review by the American College of Radiology (ACR). Ultrasound imaging, also known as sonography, uses high-frequency sound waves to produce images of internal body parts to help providers diagnose illness, injury, or other medical problems. The ACR gold seal of accreditation represents the highest level of image quality and patient safety. It is awarded only to facilities meeting ACR Practice Guidelines and Technical Standards, following a peer-review evaluation by board-certified physicians and medical physicists who are experts in the field. Image quality, personnel qualifications, adequacy of facility equipment, quality control procedures, and quality assurance programs are assessed. The findings are reported to the ACR Committee on Accreditation, which subsequently provides the practice with a comprehensive report they can use for continuous practice improvement. The ACR is a national professional organization serving more than 36,000 diagnostic/interventional radiologists, radiation oncologists, nuclear medicine physicians, and medical physicists with programs focusing on the practice of medical imaging and radiation oncology and the delivery of comprehensive health care services.
ACR Accreditation for Breast MRI and Ultrasound
In 2020, the Eunice Q Sorin Women's Diagnostic Center recently received reaccreditation for Breast MRI and Ultrasound through the American College of Radiology (ACR). ACR Accreditation is
recognized as the gold standard in medical imaging.
IAC Accredited Vascular Laboratory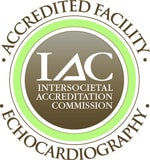 In 2020, Atlantic General Hospital's Vascular Laboratory was granted an additional three-year term of accreditation by the Intersocietal Accreditation Commission (IAC) in Echocardiography in the area
of Adult Transthoracic. This latest accreditation awarded to Atlantic General Hospital Vascular
Laboratory demonstrates the facility's ongoing commitment to providing quality patient care in echocardiography. Accreditation by the IAC means that Atlantic General Hospital Vascular
Laboratory has undergone an intensive application and review process and is found to be in compliance with the published Standards, thus demonstrating a commitment to quality patient
care in echocardiography.
Bariatrics - MBSAQIP Accreditation
Atlantic General Bariatric Center meets all criteria as a an accredited center according to national quality standards established to deliver safe, high quality bariatric patient care.
The center has been accredited under the Metabolic and Bariatric Surgery Accreditation and Quality Improvement Program (MBSAQIP), a joint program of the American College of Surgeons (ACS) and the American Society for Metabolic and Bariatric Surgery (ASMBS). The MBSAQIP Standards, outlined in the Resources for Optimal Care of the Metabolic and Bariatric Surgery Patient 2014 ensure that bariatric surgical patients receive a multidisciplinary program, not just a surgical procedure, which improves patient outcomes and long-term success. The accredited Atlantic General Bariatric Center offers preoperative and postoperative care designed specifically for their severely obese patients.
To earn the MBSAQIP designation, Atlantic General Bariatric Center met essential criteria for staffing, training and facility infrastructure and protocols for care, ensuring its ability to support patients with severe obesity. The center also participates in a national data registry that yields semiannual reports on the quality of its processes and outcomes, identifying opportunities for continuous quality improvement. The standards are specified in the MBSAQIP Resources for Optimal Care of the Metabolic and Bariatric Surgery Patient 2014, published by the ACS and ASMBS.
After submitting an application, centers seeking MBSAQIP Accreditation undergo an extensive site visit by an experienced bariatric surgeon, who reviews the center's structure, process, and clinical outcomes data. Centers are awarded a specific designation depending on how many patients it serves annually, the type of procedures it provides, and whether it provides care for patients under age 18.
Blue Distinction Center Recognition
Recognition received in 2018 and 2020:
CareFirst BlueCross BlueShield recognized Atlantic General Hospital with a Blue Distinction ® Center designation in the area of Bariatric Surgery as a part of the Blue Distinction Specialty Care program. Blue Distinction Centers are nationally designated healthcare facilities shown to deliver quality specialty care. To receive a Blue Distinction Center for Bariatric Surgery designation, AGH had to demonstrate success in meeting patient safety as well as bariatric-specific quality measures.
Circle of Honor Award
In 2016, Atlantic General was recognized for pioneering programs that have improved patient outcomes, thereby drastically reducing preventable hospital readmissions. These programs include the telemedicine collaboration with Berlin Nursing and Rehabilitation Center, the AGHRx RediScripts Pharmacy's bedside prescription concierge program for discharging patients, and the Transitions in Care Program for discharging inpatients at high risk of readmission. This is the third year in a row that Atlantic General Hospital has received the Circle of Honor Award for Patient Safety Innovation from the Maryland Patient Safety Center.
Minogue Award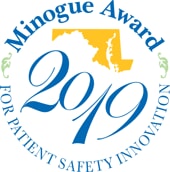 In 2019, the Maryland Patient Safety Center named Atlantic General Hospital the recipient of the Minogue Award for Patient Safety Innovation, thanks to its success in decreasing hospital-acquired C-diff infections while also reducing isolation time.
eHealthcare Leadership Award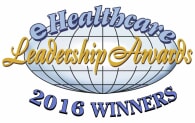 Atlantic General Hospital was one of roughly 230 healthcare organizations that received recognition for its outstanding website and digital communications during the Twentieth Annual Healthcare Internet Conference in November 2016. The eHealthcare Leadership Awards program was developed and first presented 17 years ago by Health Care Communications, Rye, NY. The Twentieth Annual Healthcare Internet Conference was sponsored by Greystone.Net, an Atlanta-based strategy firm.
Top 100 Rural and Community Hospital for 2021 and 2022

In 2021 and 2022, Atlantic General Hospital was named a Top 100 Rural and Community Hospital by the Chartis Center for Rural Health. This annual award honoring rural hospital performance is determined by the results of iVantage Health Analytics' Hospital Strength INDEX®. Hospitals recognized as a Top 100 facility had one of the 100 highest overall scores among all rural and community hospitals throughout the nation. Based entirely on publicly available data, the INDEX is the industry's most comprehensive and objective assessment of rural hospital performance. Utilizing 50 independent indicators, the INDEX assesses performance across eight pillars of performance that span market-, value- and finance-based categories.
Preformance Leadership Award 2022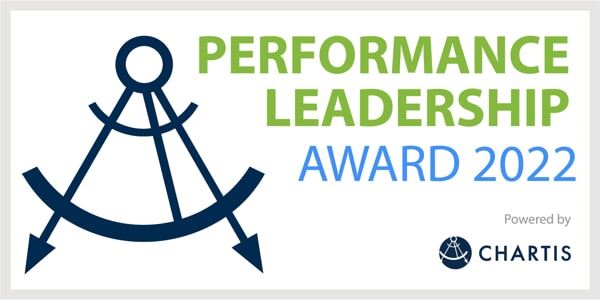 Atlantic General Hospital received the 2022 Performance Leadership Award from the Chartis Center for Rural Health, in the categories of Quality and Outcomes. The awards are bestowed to those healthcare organizations that place in the top 25% of all rural hospitals, according to the Center's Rural Hospital Performance Index, which is updated three times a year based upon publicly reported data.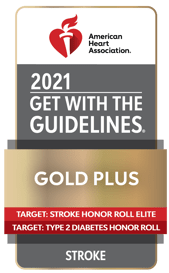 Get With the Guidelines® Stroke Quality Awards
Gold Plus Quality Achievement Award 2021, 2014, 2013, 2011; Silver Plus Quality Achievement Award 2012, 2010:
We work hard to provide excellent care to rural communities. In recognition of this effort, we earned this award-the highest recognition for stroke care from the American Stroke Association, which required a minimum of 85% adherence to achievement indicators for 2 consecutive 12-month periods or more. We have achieved this recognition 3 years in a row now.
American Heart Association's 2019 Workplace Health Achievement Silver Award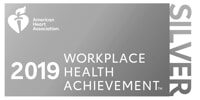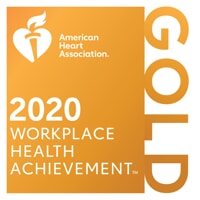 In 2019, AGH achieved Silver Level recognition in the American Heart Association's Workplace Health Achievement (WHA) index for taking significant steps to build a culture of health in the workplace. In 2020, we received Gold Level recognition. The American Heart Association created the WHA index in concert with its CEO Roundtable, a leadership collaborative of more than 40 chief executives from some of America's largest companies who are committed to improving their employees' overall health. The AHA's index uses science-based best practices to evaluate the overall quality and comprehensiveness of the workplace health programs.
Healthiest MD Business Award
Designation received in 2016, 2017, 2019 and 2021:
Atlantic General Hospital has received multiple Gold Wellness at Work awards in recognition of our exemplary accomplishments in worksite health promotion. In 2021, AGH received the Gold Exemplar distinction. The Wellness Exemplar distinction is awarded to businesses that have implemented well-established worksite.
The Wellness at Work Awards are sponsored by Healthiest Maryland Businesses, the state's initiative to support healthy workplaces. Employers may earn a Gold, Silver, Bronze, or On the Path award. To be eligible for an award, businesses are required to establish leadership support for wellness, create wellness committees, survey the needs and interests of their employees, set health improvement goals, and develop monitoring tools to track their outcomes over time.
Launched in 2010 and based at the Department of Health and Mental Hygiene, Healthiest Maryland Businesses assists businesses by creating customized wellness plans, setting wellness goals and monitoring progress. Six regional coordinators around the state provide personalized guidance to businesses of all sizes. To date, over 460 businesses have signed on to take advantage of this program.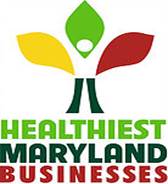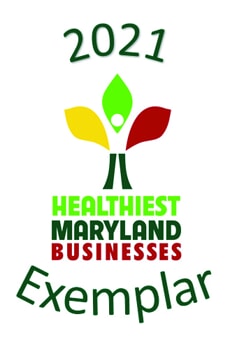 Lung Cancer Alliance Screening Center of Excellence
Designation received in 2016:
Atlantic General Hospital's Imaging Center has been named a Screening Center of Excellence by the Lung Cancer Alliance (LCA) for its ongoing commitment to responsible lung cancer screening. Low dose CT screening for lung cancer carried out safely, efficiently and equitably saves tens of thousands of lives a year. Designated Screening Centers of Excellence are committed to provide clear information based on current evidence on who is a candidate for lung cancer screening, and to comply with comprehensive standards based on best practices developed by professional bodies such as the American College of Radiology (ACR), the National Comprehensive Cancer Network (NCCN) and the International Early Lung Cancer Action Program (I-ELCAP) for controlling screening quality, radiation dose and diagnostic procedures within an experienced, multi-disciplinary clinical setting.
Most Wired Hospital Award
Designation received in 2016, 2017, 2018 & 2019, 2021, 2022: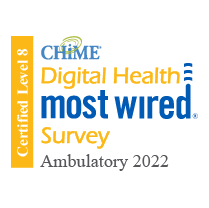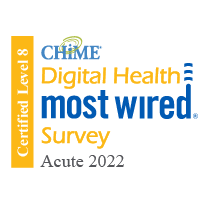 Atlantic General Hospital was among just six percent of hospitals nationwide to receive the 2016 Most Wired Hospital distinction and among the one percent of hospitals nationwide to receive the Most Wired-Advanced award in 2017. We were honored, once again in 2018 and 2019 and in 2021 and 2022 for the healthcare IT solutions the organization has implemented to improve the patient care delivered to our community.
The Most Wired Hospital Award is bestowed by the College of Healthcare Information Management Executives. The awards are based on the results of their Most Wired® survey and benchmarking study. The survey examines how organizations are using information technology (IT) to improve healthcare delivery in the areas of quality and safety, clinical integration, infrastructure and business management.
Vascular Laboratory: IAC Accredited Facility
Our Vascular Laboratory has received a 3-year accreditation term in vascular testing from the Intersocietal Accreditation Commission (IAC) in these areas: extracranial cerebrovascular testing, peripheral arterial testing, and peripheral venous testing.
Wound Care Center Awards
Center of the Year, Atlantic Zone 2014; Robert Warriner III, MD Center of Excellence Award 2010, 2011, 2012, 2013, 2014, 2015, 2016, 2017, 2018; Center of Distinction Award 2009, 2010, 2011, 2012, 2013, 2014, 2015, 2016, 2017, 2018 - Our Wound Care Center is currently capable of healing over 96% of wounds treated here. This achievement exceeds national benchmarks and has earned the recognition of Healogics, which manages the center. We are also proud to have received the Diversified Robert A. Warriner III Center of Excellence Awards in recognition of our ability to maintain quality standards and patient satisfaction levels for multiple years in a row. We also received the Center of the Year Award for the Atlantic Zone in 2014 out of 94 Healogics centers.
2010 Delmarva Foundation Excellence Award
All hospitals in Maryland and Washington, D.C. are eligible for this award; Atlantic General Hospital was the third to receive it in 2010. This award recognizes hospital performance achievement in 4 national, in-patient clinical areas: acute myocardial infarction, heart failure, surgical care, and pneumonia.
Accredited by The Joint Commission
In 2022, Atlantic General Hospital earned The Joint Commission's Gold Seal of Approval® for Hospital Accreditation by demonstrating continuous compliance with its performance standards. This re-accreditation is for a three-year term. The Gold Seal is a symbol of quality that reflects a health care organization's commitment to providing safe and quality patient care.
Atlantic General Hospital underwent a rigorous, unannounced four-day onsite review, starting February 8. During the visit, a team of Joint Commission reviewers evaluated compliance with hospital standards spanning several areas including environment of care, emergency management, infection prevention and control, performance improvement and medication management.
The Joint Commission's standards are developed in consultation with health care experts and providers, measurement experts and patients. They are informed by scientific literature and expert consensus to help health care organizations measure, assess and improve performance. The surveyors also conducted onsite observations and interviews. For more information, please visit The Joint Commission website.