Lifelong Runner Keeps Pace After Hip Surgery
Author: Bill
Date Submitted: Feb 6, 2020
Category: Orthopedics/Joint Surgery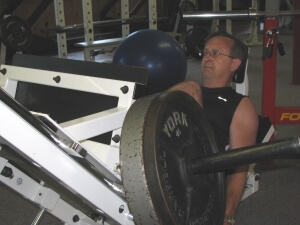 "As soon as I met Tom Beck, I liked him," he said. "I got the feeling he really cares about his patients."
Birmingham Hip Resurfacing Patient Not Ready to Hang up his Running Shoes
"I've told him, 'you just don't realize how much you've improved the quality of my life," Salisbury resident Bill said earnestly, shaking his head. "My only thoughts are that I wish I had done it earlier – wish I had met Tom earlier – because I didn't need to be in that pain."
Bill had hip resurfacing surgery nine months ago, and he can find no other downside to his choice to go to Dr. Tom Beck, an orthopedic surgeon with Atlantic Orthopedics, and Atlantic General Hospital to explore an alternative to hip replacement.
Debilitating hip problems run in his family; his great grandmother, mother and older sister have all had arthritic hips. When Bill began his own battle two years ago, he was told by a surgeon in Salisbury that his right hip could be replaced but he wouldn't be able to run anymore – an activity that had been a passion for Bill since he was in high school. He's now 61 and refuses to give it up.
"When I heard that, I got up and walked right out of there," Bill said. He continued to live with the pain, counting the steps until he could sit down after every rising. Life went on: he worked at Counseling Associates and kept his gym membership at Fruitland's Youth Exercise Services. It wasn't until a year later that Bill met Dr. Beck.
"As soon as I met Tom Beck, I liked him," he said. "I got the feeling he really cares about his patients."
Dr. Beck, who has offices with Atlantic Orthopaedics in Berlin, MD and Ocean View, DE, completed a fellowship in hip and knee reconstruction and has more than 10 years of experience in joint replacement. He has been performing the Birmingham Hip Resurfacing procedure for more than two years, completing his first case shortly after it was approved in this country by the FDA.
Unlike with traditional hip replacement, the femoral ball is preserved and capped by a metal implant that fits inside the metal-lined hip socket.
The implant used in the hip resurfacing is made from cobalt chrome, a tough metal that can better handle the everyday wear and tear produced by a younger, more active patient. Additionally, it does not require a plastic liner to separate the metal surfaces of the ball implant and the socket like that used with a total hip replacement. This liner can slowly break down over time, resulting in irritation in the joint and ultimate failure of the hip replacement.
The Birmingham implant is also larger in diameter than that used in total hip replacement. Often closer is size to the patient's original femoral ball, it reduces the risk of dislocation and allows further range of motion as the ball rotates in the socket.
Bill had his surgery on December 8, 2009 and stayed at Atlantic General for three days. He walked the halls – pain free for the first time in nearly two years – a day after the surgery and climbed 16 steps in the hospital's rehab center the day after that.
"The care at Atlantic General was wonderful," he said. "Not once during my stay did I have to push the button for help. They were always on top of things."
He was back at work 13 days after the surgery and at the gym just a few more days after that.
Dr. Beck and the Birmingham system have extended Bill's active lifestyle by 15 to 20 years. No more pain, not even a limp.
Now Bill leg presses 335 pounds, two sets of 40 each. He drags 140 pounds around on a sled up and back, up and back, across the gym floor for about two-thirds of a mile. When the elliptical is free, he glides through a slow 5K. All this is in preparation for his re-entry into running, which he promised Dr. Beck he would avoid for a full year after surgery.
"I'm appreciative of the number of people who have supported me – from Dr. Beck to Atlantic General to Youth Exercise Services. I could not have hoped for a better experience."
And, come December, he'll be ready.
"I think it will be fun to get out there and run with people who haven't had their hips worked on and see how things play out."
Before his hip pain began, Bill could run a mile in six minutes and 40 seconds – a time anyone could be proud of. From all appearances, it's a time he plans to reach again.