PAM AND MACKY STANSELL DONATE GENEROUSLY TO THE AGH CAMPAIGN FOR THE FUTURE
Berlin, Md. – The Stansells are recognized as "Life Partners" for their generous donation of $100,000 to the Atlantic General Hospital Campaign for the Future. The funds are designated to "The Walter "Macky" and Pam Stansell Family Center," an area that will be created during the modernization of the hospital's inpatient care area on the second floor where care transition counseling will take place. The Stansells' contribution brings AGH's total campaign contributions to $7,072,000 towards the $10,000,000 goal.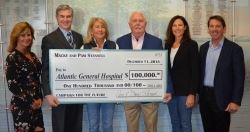 Caption: From left: Toni Keiser, vice president of Atlantic General Hospital; Michael Franklin, president and CEO of Atlantic General Hospital; Pam Stansell, co-owner of Macky's Bayside Bar & Grill; Macky Stansell, co-owner of Macky's Bayside Bar & Grill; Michelle Fager, AGH Campaign for the Future co-chair; Todd Ferrante, chair of the Atlantic General Hospital Foundation.
About the Campaign for the Future
The funds raised during the $10 million Atlantic General Campaign for the Future will allow Atlantic General Hospital to complete $35 million in capital projects. Among them is completion of a new 18,000-square-foot full service cancer care center, completion of the women's health center in West Ocean City, renovation of existing surgical facilities and expansion of emergency services within Atlantic General Hospital as well as improvements to inpatient care areas. To date, the Foundation has already secured over $7,072,000.00 of the $10 million goal in pledges, commitments and grants.
About Atlantic General Hospital
Atlantic General Hospital has been providing quality health care to the residents of Worcester, Wicomico, Somerset (Md.) and Sussex (Del.) counties since May 1993. Built by the commitment and generosity of a dedicated community, the hospital's state-of-the-art facility in Berlin, Md., combines personal attention with the latest in technology and services. It provides quality specialty care such as weight loss surgery, orthopedics, outpatient infusion and chemotherapy for individuals with cancer or blood/autoimmune disorders, and a comprehensive Women's Diagnostic Center. Atlantic General Health System, a network of more than 40 primary care providers and specialists associated with AGH, cares for residents and visitors throughout the region. For more information about Atlantic General Hospital, visit www.atlanticgeneral.org.
###