ATLANTIC GENERAL HOSPITAL RECEIVES GRANT FROM THE COMMUNITY FOUNDATION OF THE EASTERN SHORE FOR TRANSPORTATION ASSISTANCE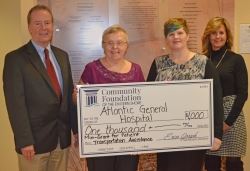 Berlin, Md. – The Community Foundation of the Eastern Shore has awarded Atlantic General Hospital a $1,000 mini-grant. The purpose of the grant is to provide one-time assistance for transportation home for patients who qualify after receiving treatment in Atlantic General Hospital's emergency room. Education will also be provided on additional resources available for transportation assistance and how to prepare for any planned or emergent transportation needs in the future.
Caption: (From L to R) Chuck Gizara, director of integrated care management at Atlantic General Hospital; Bett Weaver, RN, case manager; Heather Mahler, program director at Community Foundation of the Eastern Shore; Toni Keiser, vice president of public relations at Atlantic General Hospital.
About Atlantic General Hospital
Atlantic General Hospital has been providing quality health care to the residents of Worcester, Wicomico, Somerset (Md.) and Sussex (Del.) counties since May 1993. Built by the commitment and generosity of a dedicated community, the hospital's state-of-the-art facility in Berlin, Md., combines old-fashioned personal attention with the latest in technology and services. It provides quality specialty care such as weight loss surgery, orthopedics, outpatient infusion for individuals with cancer or blood/autoimmune disorders, retina surgery and a comprehensive women's diagnostic center. Atlantic General Health System, its network of more than 40 primary care providers and specialists, care for residents and visitors throughout the region. For more information about Atlantic General Hospital, visit www.atlanticgeneral.org.
###