ATLANTIC GENERAL HOSPITAL AUXILIARY DONATES GENEROUSLY TO THE ANNUAL APPEAL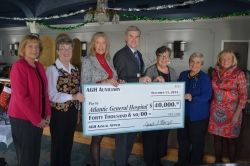 Berlin, Md. – At its annual membership meeting on December 11th the Atlantic General Hospital Auxiliary presented hospital officials with a check in the amount of $40,000 towards the hospital's annual appeal.
Caption: Members of the AGH Auxiliary Executive Committee present a donation to Atlantic General Hospital representatives (From left): Barbara Lischak, Auxiliary treasurer; Jackie Choate, Auxiliary secretary; Lois Sirman, Board of Trustee member; Michael Franklin, AGH president and CEO; Margie DiNenna, Auxiliary recording secretary; Janet Mengel, Auxiliary past president.
About Atlantic General Hospital
Atlantic General Hospital has been providing quality health care to the residents of Worcester, Wicomico, Somerset (Md.) and Sussex (Del.) counties since May 1993. Built by the commitment and generosity of a dedicated community, the hospital's state-of-the-art facility in Berlin, Md., combines old-fashioned personal attention with the latest in technology and services. It provides quality specialty care such as weight loss surgery, orthopedics, outpatient infusion for individuals with cancer or blood/autoimmune disorders, retina surgery and a comprehensive women's diagnostic center. Atlantic General Health System, its network of more than 40 primary care providers and specialists, care for residents and visitors throughout the region. For more information about Atlantic General Hospital, visit www.atlanticgeneral.org.
###