ATLANTIC GENERAL HOSPITAL ANNOUNCES NEW VICE PRESIDENT OF MEDICAL AFFAIRS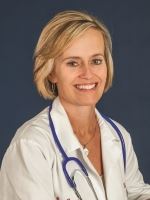 Berlin, Md. — Dr. Sally Dowling, a family practice physician by training, has accepted the position of vice president of medical affairs at Atlantic General Hospital and Health System. Dowling has been a prominent member of the Eastern Shore medical community for more than 20 years, providing primary care to families in Sussex County since 1992. She has also been actively involved with Atlantic General Hospital in a leadership capacity. Since 2012, she has been a member of the Atlantic General Hospital Corporation as well as a member of the Board's Governance Committee.
As vice president of medical affairs, Dowling will assume the duties Dr. Stephen Waters carried out for 15 years as medical director of Atlantic General Hospital and Health System. In this role, she will oversee medical staff performance improvement activities, be physician champion for practice transformation, and serve as an executive partner with the organization's vice president of patient care and vice president of practice administration to create a coordinated care delivery system that supports the Maryland Total Cost of Care system.
"On behalf of the Board of Trustees, medical staff and leadership, I would like to thank Dr. Waters for his many years of service and guidance during a time of incredible growth and evolution in healthcare," said Michael Franklin, FACHE, president and CEO of Atlantic General Hospital and Health System. "We welcome Dr. Dowling to the position of vice president of medical affairs. Her dedication to her patients and her community will strengthen the culture of caring and innovation we already have here at Atlantic General."
"I am excited to join Atlantic General Hospital and Health System and am honored to follow Dr. Stephen Waters, who has been a tireless champion of health care in our community," said Dowling. "I look forward to working with the medical staff and administration in continuing the commitment of providing excellent health care to our community."
Dowling will continue to care for the patients in her practice, located in Selbyville, Del., which will eventually become part of Atlantic General Health System.
Dowling earned her medical degree at the Medical College of Virginia, in Richmond. She is board certified by the American Board of Family Practice.
About Atlantic General Hospital
Atlantic General Hospital has been providing quality health care to the residents of Worcester, Wicomico, Somerset (Md.) and Sussex (Del.) counties since May 1993. Built through the commitment and generosity of a dedicated community, Atlantic General's main facility in Berlin, Md., combines the warmth of personalized attention with the reassurance of medical expertise and advanced technology. The not-for-profit hospital provides quality specialty care in oncology, medical and surgical weight loss, orthopedics, and women's diagnostics among other services. Atlantic General Health System, its network of more than 40 primary care providers and specialists, cares for residents and visitors throughout the region. For more information about Atlantic General Hospital, visit www.atlanticgeneral.org.
###