AGH CELEBRATES EXTRAORDINARY NURSING WITH THE 2nd QUARTER FISCAL YEAR 2019 TEAM DAISY AWARD
Berlin, Md. – Atlantic General Hospital awarded the Team DAISY Award for excellence in nursing to the Emergency Department, at a recent presentation held in the Emergency Room of the hospital. The DAISY Award only recognizes an entire team once a year, and this is the second year in a row the Emergency Department has received the honor.
Of the nomination, Director of Emergency Services/Practice Transformation Andi West-McCabe stated, "I am extremely proud of this team! This is one example of the exemplary teamwork they provide each and every day. When you are a nurse, you know that every day you will impact someone's life, and often your life will be impacted in return."
The nomination reflected back on a busy day in August when the Emergency Department sprang into action to save the life of a critically ill pediatric patient. "Over these 6 hours I saw some of the most ideal team work I have ever experienced," the nomination stated. "Across multiple departments we came together for the sole purpose to save one little girls life."
"The Emergency Department received this award because for the second year in a row, they put to action all of the core values of Atlantic General Hospital; Trust, accountability, integrity, service and teamwork, and saved the life of a young child," stated Vice President of Patient Care Services Colleen Wareing.
The DAISY Award, created by The DAISY Foundation in Memory of J. Patrick Barnes, honors the extraordinary work nurses do for patients and families each day. Hospital leadership brought the awards program to Atlantic General to recognize the compassion and high level of care its nurses provide to residents and visitors of the community.

Patients and visitors can nominate an Atlantic General Hospital and Health System nurse for the DAISY Award at any time. Nomination forms are available in every hospital department and health system physician office. Awards are bestowed quarterly.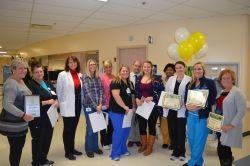 Caption:
From L to R: Associates involved in the act that recognized them for the DAISY Award: Andi West-McCabe, director of emergency services/practice transformation; Kathie Duncan, housekeeping aide; Anna Oberste, clinical pharmacist; Lori Genga, respiratory therapist; Beth Ann Wells, emergency department RN; Samantha Widgeon, ED tech; Lou Brecht, manager of cardiopulmonary services; Kacey Klink, ED tech; Althea Foreman, nurse manager; Demiah Nooney, RN case manager; Nettie Widgeon, ED charge RN; Colleen Wareing, RN, vice president of patient care services.

About Atlantic General Hospital
Atlantic General Hospital has been providing quality health care to the residents of Worcester, Wicomico, Somerset (Md.) and Sussex (Del.) counties since May 1993. Built by the commitment and generosity of a dedicated community, the hospital's state-of-the-art facility in Berlin, Md., combines old-fashioned personal attention with the latest in technology and services. It provides quality specialty care such as weight loss surgery, orthopedics, outpatient infusion and chemotherapy for individuals with cancer or blood/autoimmune disorders, and a comprehensive women's diagnostic center. Atlantic General Health System, its network of more than 40 primary care providers and specialists, care for residents and visitors throughout the region. For more information about Atlantic General Hospital, visit www.atlanticgeneral.org.
###