Nurse Practitioner Paige Wildmann Joins Burbage Regional Cancer Care Center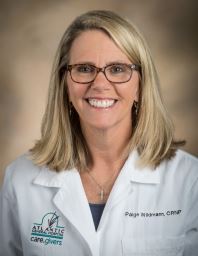 Berlin, Md. - Paige Wildmann, certified registered nurse practitioner (CRNP), has joined the medical staff at the John H. 'Jack' Burbage, Jr. Regional Cancer Care Center. She will be providing comprehensive care to patients in conjunction with Drs. Rabindra Paul and Roopa Gupta. She will also help coordinate care plans with patients and provide patient, staff and caregiver education.
"We are incredibly fortunate to have Paige as a member of the care team here at the center," said Patricia Marks, director of the Burbage Regional Cancer Care Center. "With her arrival, we will be able to increase access to the latest cancer services for our community."
Paige has 16 years as a CRNP and over 11 years of experience in cancer care. She is certified by the American Nurses Credentialing Center, the Oncology Nursing Certification Corporation and the American Association of Nurse Practitioners.
She earned her bachelor of science in nursing from Salisbury University and her master of science in nursing from Wilmington University. Her office at the Burbage Center can be reached at 410-629-6888.
About Atlantic General Hospital
Atlantic General Hospital, a designated primary stroke center, has been providing quality health care to the residents of Worcester, Wicomico, Somerset (Md.) and Sussex (Del.) counties since May 1993. Built through the commitment and generosity of a dedicated community, Atlantic General's main facility in Berlin, Md., combines the warmth of personalized attention with the reassurance of medical expertise and advanced technology. The not-for-profit hospital provides quality specialty care in oncology, medical and surgical weight loss, orthopedics, and women's diagnostics among other services. Atlantic General Health System, its network of more than 40 primary care providers and specialists, cares for residents and visitors throughout the region. For more information about Atlantic General Hospital, visit www.atlanticgeneral.org.
###