AGH FOUNDATION RECEIVES DONATION FROM THE HAL GLICK DISTINGUISHED SERVICE AWARD GALA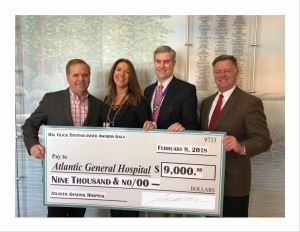 Berlin, Md. – An event record of $130,000 was raised in support of this year's Hal Glick Distinguished Service Award Gala, to be distributed amongst local charities. As one of the annual recipients, Atlantic General Hospital Foundation received a $9,000 donation from this year's gala.
The Glick Award started in 2010 with the recognition of Hal Glick, the pioneering Ocean City realtor. The next year, the award began bearing Glick's name, and has ever since. Over the last eight years, philanthropists have been recognized in Glick's name for their support of local community non-profits, including Atlantic General Hospital.
Reese Cropper III, the 2017 recipient of the Hal Glick Distinguished Service Award, bestowed this year's award funds, giving a moving speech on suicide prevention and awareness.
In addition to the annual recipients AGH Foundation and Temple Bat Yam, three local charities were chosen by Cropper among which to distribute funds; Worcester Youth and Family Counseling Services, Inc., Rebecca and Leighton Moore Child and Adolescent Behavioral Health Unit at PRMC, and The Jesse Klump Suicide Awareness Prevention Program.
"We at Atlantic General Hospital are honored to be one of the two charities to receive an annual donation at this event," stated Michael Franklin, President and CEO of AGH.
Caption: From left: Jeff Thaler of Temple Bat Yam, Tammy Patrick, Development Officer of AGH Foundation, Michael Franklin, CEO & President of AGH, and Reese Cropper, III, 2017 Hal Glick Award Recipient.
About Atlantic General Hospital
Atlantic General Hospital has been providing quality health care to the residents of Worcester, Wicomico, Somerset (Md.) and Sussex (Del.) counties since May 1993. Built by the commitment and generosity of a dedicated community, the hospital's state-of-the-art facility in Berlin, Md., combines personal attention with the latest in technology and services. It provides quality specialty care such as weight loss surgery, orthopedics, outpatient infusion and chemotherapy for individuals with cancer or blood/autoimmune disorders, and a comprehensive Women's Diagnostic Center. Atlantic General Health System, a network of more than 40 primary care providers and specialists associated with AGH, cares for residents and visitors throughout the region. For more information about Atlantic General Hospital, visit www.atlanticgeneral.org.
###