NEW CIO JOINS ATLANTIC GENERAL HOSPITAL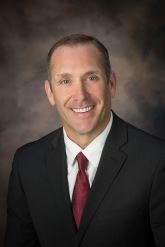 Jonathan Bauer steps in to oversee information technology systems at Most Wired-Advanced Hospital
Berlin, Md. – Atlantic General Hospital and Health System announced today that Jonathan Bauer has joined the organization as the new vice president of information systems, taking over for Andrew Fowler, who retired in June.
Bauer was born and raised in southwest Pennsylvania just outside of Pittsburgh. He spent four years at Slippery Rock University, in Slippery Rock, Penn., where he earned a bachelor of science in physics. His first position in healthcare was with McKesson, working with pharmaceutical-distributing robots. It was there his love for technology and healthcare grew, and he went on to obtain his MBA from Waynesburg University, in Waynesburg, Penn.
After nine successful years with McKesson, Bauer accepted a position at Somerset Hospital, in Somerset, Penn., as their director of information services. Soon after joining Somerset Hospital, he was promoted to chief information officer where he successfully led the hospital through all stages of Meaningful Use and achieved Most Wired – the premier award program for healthcare IT – three consecutive years. Bauer has continued his passion for learning by earning his CHCIO and CPHIMS certification from both the College of Healthcare Information Management Executives (CHIME) and Healthcare Information and Management Systems Society (HIMSS).
"Atlantic General Hospital has a history of being ahead of the pack when it comes to healthcare IT and technological innovation," said Bauer. "I'm thrilled to be here."
About Atlantic General Hospital
Atlantic General Hospital has been providing quality health care to the residents of Worcester, Wicomico, Somerset (Md.) and Sussex (Del.) counties since May 1993. Built through the commitment and generosity of a dedicated community, Atlantic General's main facility in Berlin, Md., combines the warmth of personalized attention with the reassurance of medical expertise and advanced technology. The not-for-profit hospital provides quality specialty care in oncology, medical and surgical weight loss, orthopedics, and women's diagnostics among other services. Atlantic General Health System, its network of more than 40 primary care providers and specialists, cares for residents and visitors throughout the region. For more information about Atlantic General Hospital, visit www.atlanticgeneral.org.