ATLANTIC GENERAL HOSPITAL FOUNDATION PLANS 24th ANNIVERSARY CELEBRATION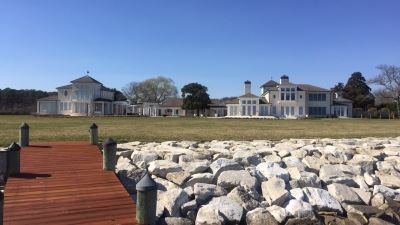 Event to be hosted by Raymond C. Nichols at "Mirador"
Berlin, Md. – To celebrate the hospital's growth and the community support that has made it possible, the Atlantic General Hospital Foundation will be holding their 24th Anniversary Celebration on Thursday, May 18. Hosted at the Nichols' exquisite home "Mirador" in Berlin on the Sinepuxent Bay, the evening will present an allusion of Victorian elegance "aboard" a luxury ocean liner with guests donning "First Class Fashion" cocktail attire. Highlights of the outdoor event will include catering by Nage, Harborside's Orange Crush Bar, Seacrets liquor, Fager's Island wine, "Mirador Martini Bar" by West-O Bottle Shop, and entertainment by DJ Wax.
Event Sponsorships and Admissions can be purchased by texting MIRADOR to 41444 or by visiting www.atlanticgeneral.org/tickets.
The Details
Atlantic General Hospital Foundation's 24th Anniversary Celebration
Thursday, May 18, 2017
6:30 – 10:00 p.m.
At Raymond C. Nichols' home "Mirador" in Berlin, Md.
Thank you to our sponsors for your help in making this event possible:
LEGACY SPONSOR
Kelly Foods Corporation
13 Consecutive Years as Title Sponsor
NAVIGATOR SPONSORS
Burbage Properties
Hardwire, LLC
MARINER SPONSORS
AGH Auxiliary
Nage Catering & Pantry, LLC
VOYAGER SPONSORS
Bank of Ocean City
Calvin B. Taylor Banking Co.
Coastal Tented Events
Peninsula Imaging, LLC
Salisbury University
Sysco Eastern Maryland, LLC
Trond's Pool Care, LLC
EXPLORER SPONSORS
Atlantic Dental Cosmetic & Family Dentistry
Atlantic/Smith, Cropper & Deeley
Ayres, Jenkins, Gordy & Almand
The Bank of Delmarva
Berlin Nursing & Rehabilitation Center
Carousel Group Resort Hotels
Dale & Charlotte Cathell
Clarion Resort Fontainebleau Hotel
Coastal Style Magazine
Corporate Facilities, Inc.
Courtyard by Marriott/Captain's Table Restaurant
Dr. & Mrs. Peter Costantini
Delmarva Media Group
Dunkin Donuts of Delmarva
Flowers by Alison
Bill & Julie Gibbs
Bradley & Kim Gillis
Guerrieri Family Foundation
Healogics
Horizon CSA, LLC
i.g. Burton Chevrolet of Seaford
Joan W. Jenkins Foundation
Chris & Holiday Johnson
Johnson Controls, Inc.
Kohler Healthcare Consulting
Mark & Donna Leiner
M&T Bank
Marshall Hotels
Maryland Coast Dispatch
Rich & Laura Mathabel
Senator Jim Mathias & Family
Ocean City Fish Company
Dr. & Mrs. G. Eric Palmer
Park Place Jewelers
Drs. Daniel & Anita Pascucci
Jim & Jan Perdue
Pivot Physical Therapy
Pohanka of Salisbury
George & Frances Purnell
Quest Diagnostics
Wm. Tim Rayne Jr. - In Memory of Wm. Tim Rayne Sr.
G. Marvin & Beverly Steen
Telescope Pictures
The Original Greene Turtle
John & Gail Whaley
Drs. Jason & Preeti Yonker
SEAFARER SPONSORS
ACE Printing & Mailing - In Loving Memory of Louise L. Gulyas, Worcester County Commissioner 1998-2014
Alison to the Altar
Allen & Shariff Engineering
BrightView Landscapes, LLC
Centric Business Systems
CG Accounting Group
Cropper & Sons Towing
Mark & Kathy Drew
Billy & Gloria Esham, Jr.
Fogle's Septic & Portables
Gismondi Insurance Associates
Lilah C. Gonzalez, M.D.
Kearney, Drechsler & Awalt, LLC
Kendall Home Furnishings
KRW Auto & Golf Cart Sales
McGinty Marine Construction
McKesson Laboratory Solutions
Monogram Realty
Joseph & Susan Moore
Mullin/Ashley Associates, Inc.
Quality Linen Service
Rayne's Sand & Gravel
Judy Schoellkopf
Silberstein Insurance Group
Dr. & Mrs. James M. Skolka
Frank & Joan Vetare
Wilmington University
LIBATION SPONSORS
Carey Distributors
Coca-Cola Bottling Co.
Michelle & John Fager
Harborside Bar & Grill
Seacrets - Rebecca & Leighton Moore
West-O Bottle Shop & Bar
A special thank you to Anniversary Celebration Committee Co-Chairs Kim Ruark Mihaly and Emily Tunis for their tremendous leadership and unwavering commitment to coordinating what is sure to be another unforgettable event, celebrating the phenomenal hospital that we, as a community, built 24 years ago.
Proceeds from the event benefit the Atlantic General Hospital Foundation. For more information, please contact Joy Stokes, Event Coordinator, at the Foundation office at 410-641-9671 or jstokes@atlanticgeneral.org.
Caption: The location of the Atlantic General Hospital Foundation 24th Anniversary Celebration, "Mirador" the exquisite home of Raymond C. Nichols.