MARYLAND FIRST LADY VISITS REGIONAL CANCER CARE CENTER
Berlin, Md. – Yumi Hogan, Maryland's first lady, kicked off a visit to the Eastern Shore with a tour of Atlantic General Hospital's Regional Cancer Care Center on Monday. During the tour, Hogan received a warm welcome from staff and patients. She also reviewed plans for the new John H. "Jack" Burbage, Jr. Regional Cancer Center, which is due to open in spring 2018, and demoed the telemedicine solution being used for patient consultations with specialists at the University of Maryland Greenebaum Cancer Center.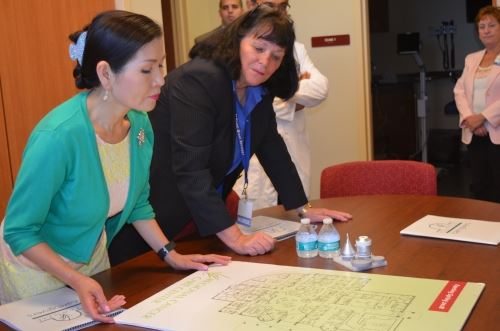 Maryland First Lady Yumi Hogan (left) reviews the floor plans for the new John H. "Jack" Burbage, Jr. Regional Cancer Center with Ann Bergey, vice president of quality and medical staff services at Atlantic General Hospital.
More photos can be found on the AGH Facebook page @AtlanticGeneralHospital. Additional high resolution images are available upon request.
About the John H. "Jack" Burbage Regional Cancer Care Center
The new 18,000-square-foot Regional Cancer Care Center, which is to be built on hospital-owned property at the corner of Rt. 113 and Old Ocean City Boulevard (Rt. 346) in Berlin, Md., will provide one centrally-located, convenient facility for the care and treatment of individuals with cancer and blood disorders.
In addition to existing medical oncology and chemotherapy infusion services and integrative therapies, the new center will include radiation oncology; PET imaging; laboratory services; community education and support facilities; and telemedicine technology that will allow patients and their physicians to consult with other cancer care experts, preventing unnecessary travel for consultation and follow up care for patients who may require more intensive cancer care services.
Construction will be complete in early 2018.