AGH CELEBRATES EXTRAORDINARY NURSING WITH THE 2nd QUARTER FISCAL YEAR 2017 DAISY AWARD
Posted On:
Written By:

Kevin Kalchthaler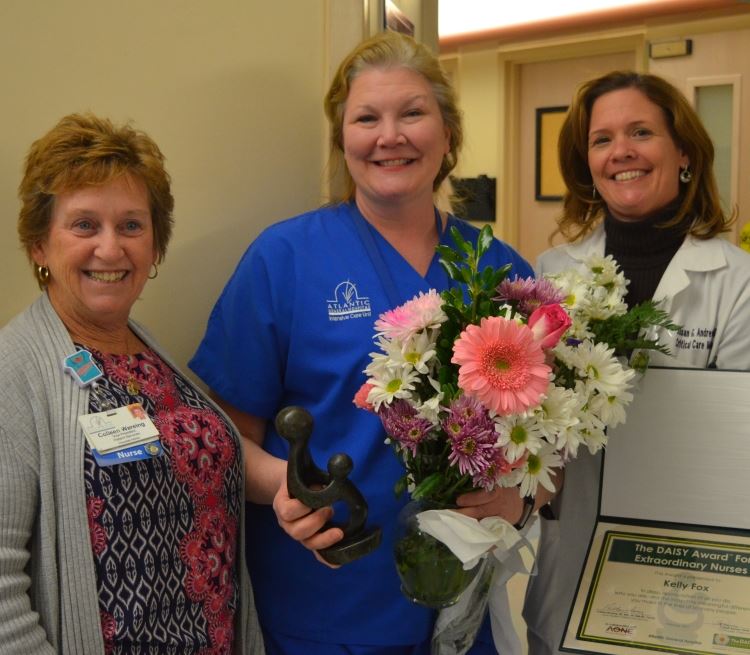 Berlin, Md. – Atlantic General Hospital awarded the DAISY Award for excellence in nursing to Kelly Fox, RN, at a recent presentation.
Fox has worked in intensive care unit (ICU) at AGH for 11 years. This is her fourth DAISY nomination and her first DAISY award. One nomination Fox received stated, "The actions Kelly displayed, not only as patient care supervisor and nurse but as a compassionate individual, is what earns her this nomination for the DAISY Award."
Of her nomination, Fox said, "I am very honored to receive the DAISY Award. I work with an incredible group of nurses and physicians. It is truly a group effort."
The DAISY Award, created by The DAISY Foundation in Memory of J. Patrick Barnes, honors the extraordinary work nurses do for patients and families each day. Hospital leadership brought the awards program to Atlantic General to recognize the compassion and high level of care its nurses provide to residents and visitors of the community.
Patients and visitors can nominate an Atlantic General Hospital and Health System nurse for the DAISY Award at any time. Nomination forms are available in every hospital department and health system physician office. Awards are bestowed quarterly.
Caption:
From L to R: Colleen Wareing, vice president of patient care services; Kelly Fox, RN BSN, DAISY recipient; and Dr. Susan Andrews Medical Director of the ICU.