ATLANTIC GENERAL HOSPITAL NOW OFFERING PET ASSISTED THERAPY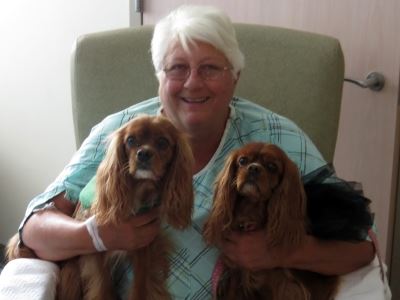 Pet assist therapy dogs, Ozzie and Maiya with a happy patient before being discharged.
Berlin, Md. – Atlantic General Hospital in partnership with Pets on Wheels of Delmarva is now providing animal assisted therapy to patients who request it as part of an integrative therapies initiative within the hospital and health system.
Animal Assisted Therapy (AAT) is a type of therapy that involves animals as a form of treatment. It is a growing field that uses dogs or other animals to help people recover from or better cope with health problems, such as heart disease, cancer and mental health disorders.
AAT uses trained animals to enhance an individual's physical, emotional and social wellbeing, thus improving self-esteem, reducing anxiety and facilitating healing.
Research has shown that animals have a calming effect, reducing blood pressure and anxiety. Animals tend to make people less lonely and bring out positive social characteristics. Many hospitals and nursing homes use AAT programs to help reduce feelings of depression and isolation in their patients as well as stimulate mental activity through interaction with the animal.
Animals provide an opportunity for owners to cultivate their capacity to love, which is a basic human need essential for mental health and emotional well-being. One of the most fundamental advantages of animal assisted therapy over other therapeutic modalities is that it provides the patient a much needed opportunity to give affection as well as receive it. It is this reciprocity – rare among medical therapies - that make animal assisted therapy a unique and valuable route to healing.
The Atlantic General Hospital/Health System Animal Assisted Therapy program will be limited to canines only. For more information on this or any of the other integrative therapies being offered through hospital and health system partners, please visit www.atlanticgeneral.org/integrativetherapy.
About Atlantic General Hospital
Atlantic General Hospital has been providing quality health care to the residents of Worcester, Wicomico, Somerset (Md.) and Sussex (Del.) counties since May 1993. Built by the commitment and generosity of a dedicated community, the hospital's state-of-the-art facility in Berlin, Md., combines old-fashioned personal attention with the latest in technology and services. It provides quality specialty care such as weight loss surgery, orthopedics, outpatient infusion and chemotherapy for individuals with cancer or blood/autoimmune disorders, and a comprehensive women's diagnostic center. Atlantic General Health System, its network of more than 40 primary care providers and specialists, care for residents and visitors throughout the region. For more information about Atlantic General Hospital, visit www.atlanticgeneral.org.