ATLANTIC GENERAL HOSPITAL FOUNDATION RECEIVES DONATION TO CAMPAIGN FOR THE FUTURE FROM DAFA, INC. / THE FASANO FAMILY
Berlin, Md. – The Atlantic General Hospital Campaign for the Future recently received a donation of $5,000 from the Fasano family for upcoming projects, including the new John H. "Jack" Burbage, Jr. Regional Cancer Care Center.
DAFA, Inc. and the Fasano family operate the La Quinta Inn and Suites on 32nd Street in Ocean City, Maryland. Sal Fasano, Jr. is a member of the Atlantic General Hospital Foundation Board of Directors and past co-chair of the AGH Penguin Swim, successfully leading the event for three years.
"Our family is honored to support the efforts of the Campaign for the Future and the growth of the hospital and health system. We recognize the need for a comprehensive cancer care center right here in Worcester County and believe the residents and visitors benefit greatly from the caregivers at Atlantic General Hospital each and every day. To have a facility that affords residents the ability to get the cancer care they need in their hometown, and stay close to home is priceless," said Sal Fasano, Jr.
"We're extremely grateful for the commitment shown to our not-for-profit community hospital and the generous support of local businesses like DAFA, Inc. and the Fasano family. With the support of our community, we can help AGH meet the challenges of providing the very best healthcare services right here – close to home," said Campaign for the Future Co-Chair Jack Burbage.
About the Campaign for the Future
The funds raised during the $10 million Atlantic General Campaign for the Future will allow Atlantic General Hospital to complete $35 million in capital projects. Among them is construction of a new 18,000-square-foot full service cancer care center, completion of a women's health center in West Ocean City, renovation of existing surgical facilities and expansion of emergency services within Atlantic General Hospital as well as improvements to inpatient care areas. To date, the Foundation has already secured over $3,000,000 of the $10 million goal in pledges, commitments and grants.
About the John H. "Jack" Burbage Regional Cancer Care Center
The new 18,000-square-foot Regional Cancer Care Center, which is to be built on hospital-owned property at the corner of Rt. 113 and Old Ocean City Boulevard (Rt. 346) in Berlin, Md., will provide one centrally-located, convenient facility for the care and treatment of individuals with cancer and blood disorders.
In addition to existing medical oncology and chemotherapy infusion services and integrative therapies, the new center will include radiation oncology; PET imaging; laboratory services; community education and support facilities; and telemedicine technology that will allow patients and their physicians to consult with other cancer care experts, preventing unnecessary travel for consultation and follow up care for patients who may require more intensive cancer care services.
Opening in spring 2018.
About Atlantic General Hospital
Atlantic General Hospital has been providing quality health care to the residents of Worcester, Wicomico, Somerset (Md.) and Sussex (Del.) counties since May 1993. Built by the commitment and generosity of a dedicated community, the hospital's state-of-the-art facility in Berlin, Md., combines old-fashioned personal attention with the latest in technology and services. It provides quality specialty care such as weight loss surgery, orthopedics, outpatient infusion and chemotherapy for individuals with cancer or blood/autoimmune disorders, and a comprehensive women's diagnostic center. Atlantic General Health System, its network of more than 40 primary care providers and specialists, care for residents and visitors throughout the region. For more information about Atlantic General Hospital, visit www.atlanticgeneral.org.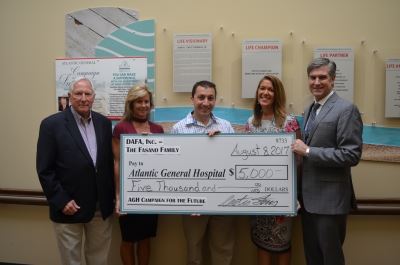 From left: Associates – Jack Burbage, Jr., co-chair Campaign for the Future; Toni Keiser, vice president public relations Atlantic General Hospital; Sal Fasano, member AGH Foundation Board of Directors; Tammy Patrick, development officer Atlantic General Hospital Foundation; and Michael Franklin, president and CEO Atlantic General Hospital.