ATLANTIC GENERAL HOSPITAL FOUNDATION RECEIVES DONATION TO CAMPAIGN FOR THE FUTURE
Berlin, Md. – Greater Ocean City native, Joe Wilson, recently gifted the Atlantic General Hospital Campaign for the Future with a $5,000 donation.
Wilson is a native of the greater Ocean City, Md. area and has spent most of his life here. Upon graduating from Worcester Prep he attended the College of Charleston where he earned a degree in Political Science.
Following college Wilson returned to Ocean City to care for his parents and take over their Real Estate business before they both passed away from cancer. He chose to invest in the Atlantic General Hospital Campaign for the Future because of its commitment to affording patients and their families more time together, the ability to telecommunicate with physicians from across the bridge at the University of Maryland Medical Center and cut down on frivolous travel time. "I wish this was an option for me and my family five years ago when my parents were battling cancer. It is of the utmost importance to do my part to try and help impact the lives of others within our community that may be going through similar experiences," commented Wilson.
"We're extremely grateful for the unwavering support of the community. The way healthcare services are delivered is changing, but Atlantic General's commitment to state –of- the -art medicine only grows stronger. We can help AGH meet the challenges of providing the very best healthcare services right here – close to home, so that families like Joe's can have the quality of live they so deserve, rather than traveling countless miles for treatments," commented Campaign for the Future Co-Chair, Jack Burbage.
About the Campaign for the Future
The funds raised during the $10 million Atlantic General Campaign for the Future will allow Atlantic General Hospital to complete $35 million in capital projects. Among them is construction of a new 18,000-square-foot full service cancer care center, completion of a women's health center in West Ocean City, renovation of existing surgical facilities and expansion of emergency services within Atlantic General Hospital as well as improvements to inpatient care areas. To date, the Foundation has already secured almost $3,000,000 of the $10 million goal in pledges, commitments and grants.
About the John H. "Jack" Burbage Regional Cancer Care Center
The new 18,000-square-foot Regional Cancer Care Center, which is to be built on hospital-owned property at the corner of Rt. 113 and Old Ocean City Boulevard (Rt. 346) in Berlin, Md., will provide one centrally-located, convenient facility for the care and treatment of individuals with cancer and blood disorders.
In addition to existing medical oncology and chemotherapy infusion services and integrative therapies, the new center will include radiation oncology; PET imaging; laboratory services; community education and support facilities; and telemedicine technology that will allow patients and their physicians to consult with other cancer care experts, preventing unnecessary travel for consultation and follow up care for patients who may require more intensive cancer care services.
Construction is due to begin in July 2017, with completion in early 2018.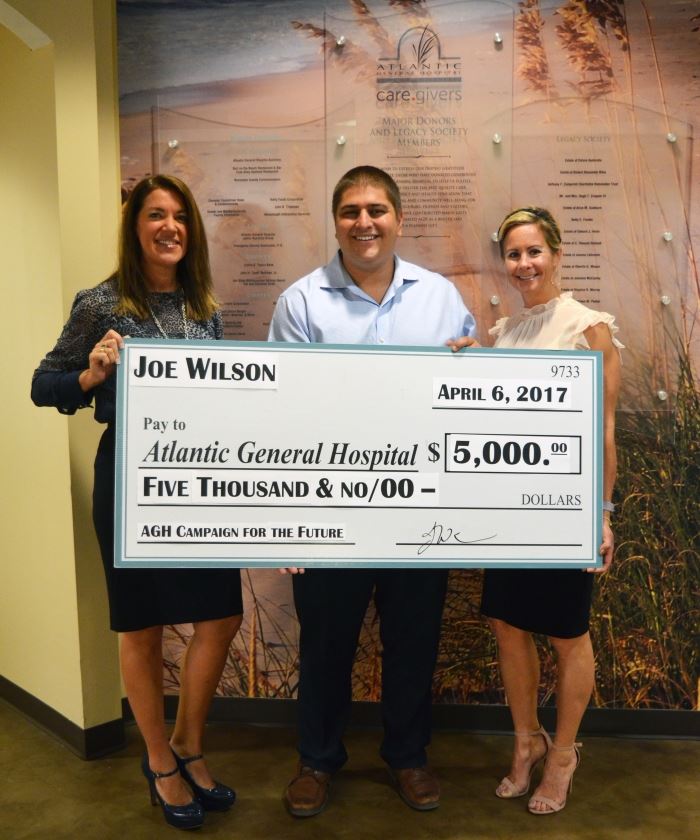 From left: Tammy Patrick, development officer Atlantic General Hospital Foundation; Joe Wilson, realtor, Mark Fritschle Group Condominium Reatlty, Ltd.; and Toni Keiser, vice president public relations.