NEW REGIONAL CANCER CARE CENTER FOR WORCESTER COUNTY NAMED IN HONOR OF JOHN H. "JACK" BURBAGE, JR.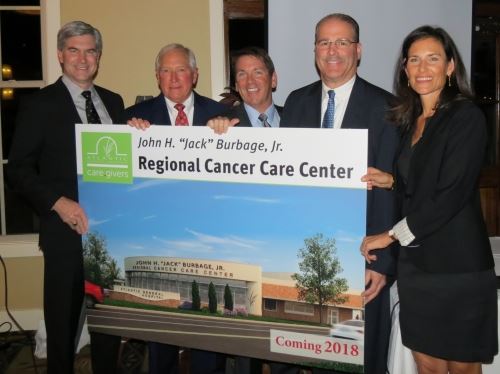 Berlin, Md. – Atlantic General Hospital Foundation unveiled the name of the hospital's new cancer center at the Foundation's annual Thanks for Giving event on Wednesday.
Michelle Fager, co-chair of the Atlantic General Campaign for the Future, announced that the new cancer center will be named the John H. "Jack" Burbage, Jr. Regional Cancer Care Center in honor of Jack Burbage's personal and financial contributions to the hospital and the community.
Burbage, who is also co-chair of the Atlantic General Campaign for the Future, is a resident of Berlin, Md., and CEO of Blue Water Development Company. The Stephen Decatur High School graduate has deep roots in the community.
He sits on the Board of Directors of Taylor Bank, is a board member for Diakonia and is a member of the Maryland Builders and the Maryland Bankers Association. He has two sons and four grandchildren.
"We're very fortunate to have Jack's support for the new cancer center and the Campaign for the Future. The community's response has been overwhelming," said Fager. "We are excited to have already secured over one quarter of our total goal of $10,000,000 in pledges, commitments, and grants.
About the John H. "Jack" Burbage Regional Cancer Care Center
The new 18,000-square-foot Regional Cancer Care Center, which is to be built on hospital-owned property at the corner of Rt. 113 and Old Ocean City Boulevard (Rt. 346) in Berlin, Md., will provide one centrally-located, convenient facility for the care and treatment of individuals with cancer and blood disorders.
In addition to existing medical oncology and chemotherapy infusion services and integrative therapies, the new center will include radiation oncology; PET imaging; laboratory services; community education and support facilities; and telemedicine technology that will allow patients and their physicians to consult with other cancer care experts, preventing unnecessary travel for consultation and follow up care for patients who may require more intensive cancer care services.
Construction is due to begin in July 2017, with completion in early 2018.
About the Campaign for the Future
The funds raised during the $10 million Atlantic General Campaign for the Future will allow Atlantic General Hospital to complete $35 million in capital projects. Among them is construction of a new 18,000-square-foot full service cancer care center, completion of a women's health center in West Ocean City, renovation of existing surgical facilities and expansion of emergency services within Atlantic General Hospital as well as improvements to inpatient care areas. To date, the Foundation has already secured more than $2, 250,000 of the $10 million goal in pledges, commitments and grants.