GOVERNOR HOGAN PROCLAIMS NOVEMBER 17TH AS RURAL HEALTH DAY IN MARYLAND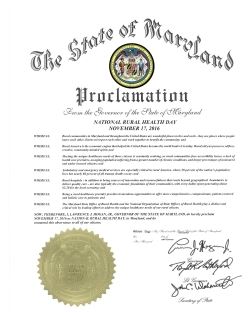 Berlin, Md. – This week Atlantic General Hospital will join Governor Hogan in honoring November 17, 2016 as National Rural Health Day.
National Rural Health Day provides our organization and our region the opportunity to recognize the importance of healthcare providers and facilities in rural communities. As stated in Governor Hogan's proclamation, while just 20 percent of the nation's population resides in rural America, nearly 60 percent of all trauma deaths occur in these areas. Rural hospitals are sources of innovation reaching beyond geographical boundaries to deliver quality care, as well as the economic foundation of the community where every dollar spent generates roughly $2.20 for the local economy.
Atlantic General Hospital is pleased to join Governor Hogan and the state of Maryland in recognizing National Rural Health Day. "This is a day for us to recognize and commend our Associates, community partners and supporters for providing the region with quality care, personalized service, and a community hospital and health system that cares for not only their friends and neighbors but those that visit our area throughout the year," said Atlantic General Hospital president and CEO, Michael Franklin, FACHE.
Please join us in welcoming the opportunity of National Rural Health Day to celebrate the healthcare community, its providers, and those that support organizations like Atlantic General Hospital all year long.