Atlantic General Hospital Honored for Worksite Wellness Achievements
Berlin, Md. - On Friday, June 10, Van Mitchell, Secretary for Health and Mental Hygiene, presented a Gold Wellness at Work award to Atlantic General Hospital in recognition of their exemplary accomplishments in worksite health promotion.
The Wellness at Work Awards took place as part of the 7th annual Maryland Workplace Health & Wellness Symposium at the BWI Marriott in Linthicum Heights. Atlantic General Hospital was one of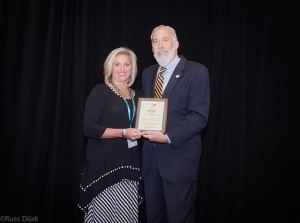 42 businesses to receive an award.
The Wellness at Work Awards are sponsored by Healthiest Maryland Businesses, the state's initiative to support healthy workplaces. Employers may earn a Gold, Silver, Bronze, or On the Path award. To be eligible for an award, businesses are required to establish leadership support for wellness, create wellness committees, survey the needs and interests of their employees, set health improvement goals, and develop monitoring tools to track their outcomes over time.
Launched in 2010 and based at the Department of Health and Mental Hygiene, Healthiest Maryland Businesses assists businesses by creating customized wellness plans, setting wellness goals and monitoring progress. Six regional coordinators around the state provide personalized guidance to businesses of all sizes. To date, over 460 businesses have signed on to take advantage of this program.
"We are thrilled to receive recognition for our efforts and commitment to providing ongoing wellness programs and events to our associates. We firmly believe the healthier we are as an organization, the better service and care we can provide to our neighbors and the many visitors to our community," shared Tracey R. Mullineaux BSN,RN, employee health/wellness.

About Atlantic General Hospital
Atlantic General Hospital has been providing quality health care to the residents of Worcester, Wicomico, Somerset (Md.) and Sussex (Del.) counties since May 1993. Built by the commitment and generosity of a dedicated community, the hospital's state-of-the-art facility in Berlin, Md., combines old-fashioned personal attention with the latest in technology and services. It provides quality specialty care such as weight loss surgery, orthopedics, outpatient infusion for individuals with cancer or blood/autoimmune disorders, retina surgery and a comprehensive women's diagnostic center. Atlantic General Health System, its network of more than 40 primary care providers and specialists, care for residents and visitors throughout the region. For more information about Atlantic General Hospital, visit www.atlanticgeneral.org.
###