Regional Cancer Care Center Hosts Look Good Feel Better Program
Berlin, Md. –
The Regional Cancer Care Center recently hosted a Look Good Feel Better Workshop for local cancer patients.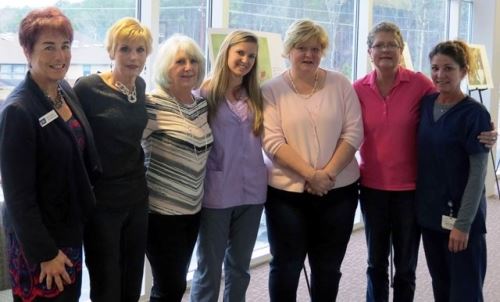 A volunteer beauty professional was on hand to provide advice on skin care and makeup application, as well as wig selection and care, how to care for dry skin and discolored nails, style tips and wearing hats, scarves and turbans.
In conjunction with this event, Lilly's Oncology on Canvas traveling art exhibition was on display in the second floor hallway of the James G. Barrett Medical Office Building.
In 1989, the Look Good Feel Better program was launched with one core belief — that helping cancer patients deal with the side effects of treatment that affect physical appearance can have an impact that runs more than skin deep. To date, more than 900,000 U.S. cancer patients have participated in the program.

Photo caption:
Attendees with volunteers of the Look Good Feel Better program – pictured from L to R: American Cancer Society representative, Arlene Schneider; Deborah Wood; Donna Varady; RCCC Medical Office Assistant, Paige Milbourne; Julie Krenzer; Bonnie Hardt and Laura Windsor.

To learn more about the Look Good Feel Better program visit www.lookgoodfeelbetter.org or call 800.395.LOOK.
About Atlantic General Hospital
Atlantic General Hospital has been providing quality health care to the residents of Worcester, Wicomico, Somerset (Md.) and Sussex (Del.) counties since May 1993. Built by the commitment and generosity of a dedicated community, the hospital's state-of-the-art facility in Berlin, Md., combines old-fashioned personal attention with the latest in technology and services. It provides quality specialty care such as weight loss surgery, orthopedics, outpatient infusion for individuals with cancer or blood/autoimmune disorders, retina surgery and a comprehensive women's diagnostic center. Atlantic General Health System, its network of more than 40 primary care providers and specialists, care for residents and visitors throughout the region. For more information about Atlantic General Hospital, visit www.atlanticgeneral.org.