ATLANTIC GENERAL HOSPITAL JUNIOR AUXILIARY GROUP HOLDS INSTALLATION OF OFFICERS
Berlin, Md. – The Atlantic General Hospital Junior Auxiliary Group (JAG) recently held their annual membership meeting and installation of officers at the home of Susan Curtis-Dypsky.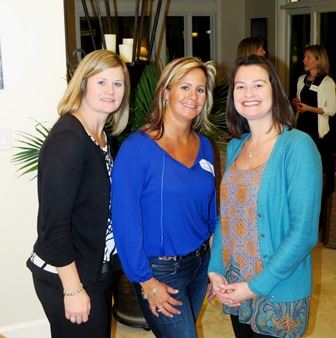 Caption: Pictured left to right – Outgoing President Rebecca Taylor; Toni Keiser, Vice President of Public Relations; and Incoming President Jill Ferrante.
Vice President, Bridget Desaulniers; Treasurer, Susan Curtis-Dypsky; Secretary, Dawn Hodge; Welcoming Committee Chairman, Jennifer Klepper; Membership Chairman, Sandy Gillis; Social Committee Chairman, Patricia Ilczuk-Lavanceau; and Fundraising Committee Co-Chairmen, Rebecca Taylor and Ashley Furbay round out the Executive Committee for the organization whose mission is to increase community awareness of Atlantic General Hospital and its associates through fun, fellowship, and family-oriented activities and fundraising.
For more information on the group, their activities or to join visit http://www.atlanticgeneral.org/Volunteer/Junior-Auxiliary-Group.aspx or call Toni Keiser at 410-641-9678.