Atlantic General Hospital To Offer Bereavement Workshop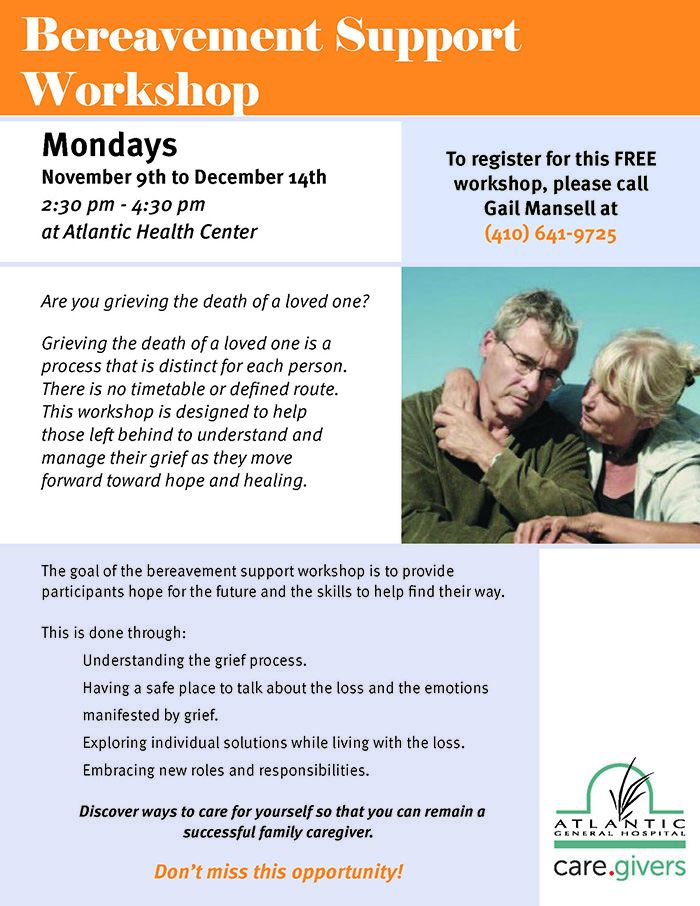 Berlin, Md. – Atlantic General Hospital will be offering a new, free Bereavement Support Workshop beginning on Monday, November 9, 2015.
The goal of the bereavement support workshop is to provide participants hope for the future and the skills to help find their way.
This is done through:
Understanding the grief process.
Having a safe place to talk about the loss and the emotions manifested by grief. Exploring individual solutions while living with the loss.
Embracing new roles and responsibilities.
Grieving the death of a loved one is a process that is distinct for each person. There is no timetable or defined route. This workshop is designed to help those left behind to understand and manage their grief as they move forward toward hope and healing.
The workshop is facilitated by experienced Pastoral and Supportive Care Services leaders each Monday from 2:30 p.m. to 4:30 p.m. November 9 through December 14.
For more information about the workshop, call Gail Mansell at (410) 641-9725.
About Atlantic General Hospital
Atlantic General Hospital has been providing quality health care to the residents of Worcester, Wicomico, Somerset (Md.) and Sussex (Del.) counties since May 1993. Built by the commitment and generosity of a dedicated community, the hospital's state-of-the-art facility in Berlin, Md., combines old-fashioned personal attention with the latest in technology and services. It provides quality specialty care such as weight loss surgery, orthopedics, outpatient infusion for individuals with cancer or blood/autoimmune disorders, retina surgery and a comprehensive women's diagnostic center. Atlantic General Health System, its network of more than 40 primary care providers and specialists, care for residents and visitors throughout the region. For more information about Atlantic General Hospital, visit www.atlanticgeneral.org.