Atlantic General Hospital's 17th Annual Health Fair Scheduled For November 7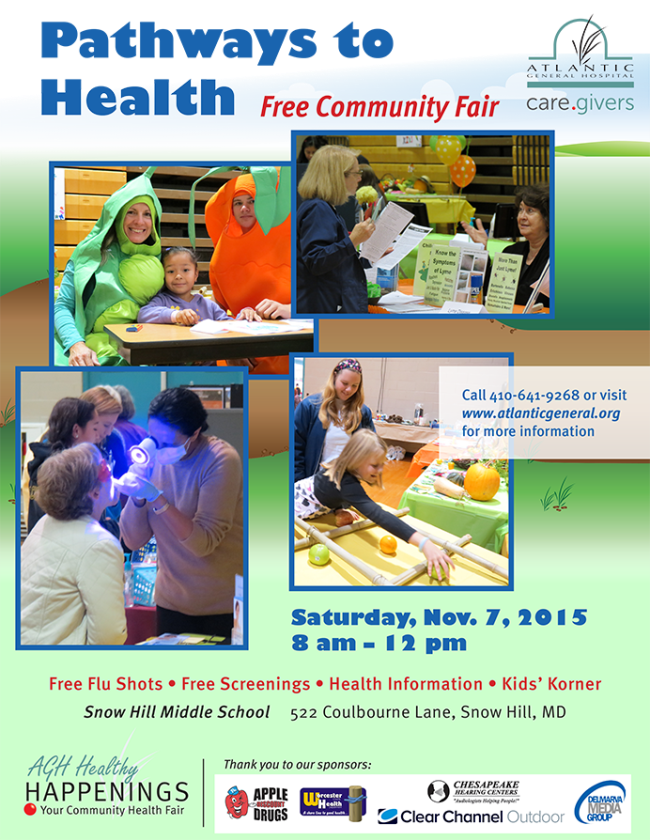 Berlin, Md. – AGH Healthy Happenings Community Health Fair is scheduled for Saturday, Nov. 7, 2015. The annual free health fair will be held at Snow Hill Middle School, 522 Coulbourne Lane, Snow Hill, Md. from 8 a.m. to 12 p.m.
The focus of this year's fair is Pathways to Health incorporating activities for the whole family and health screenings, including flu shots. There will also be a $250 gift card random drawing for those who turn in their form showing 25 vendor/screener visits (1 per table). Join us and go down the yellow brick pathway and learn more about your health and health services available in our community.
"We're excited to bring the Healthy Happenings Community Health Fair to Snow Hill this year, and look forward to sharing Pathways to Health with our partners and the community," shared AGH Community Education Manager, Dawn Denton.
All free screenings and Kids Korner fun will take place between 8 a.m. and 12 p.m. Free Screenings include cholesterol (12 hour fast required), carotid artery, respiratory, skin, hearing, diabetes, vision, clinical breast exams and more.
The Details
17th Annual AGH Healthy Happenings Fair – Pathways to Health
Saturday, November 7, 2015
8 a.m. – 12 p.m.
Snow Hill Middle School, Snow Hill, Md.
For more information and a complete list of screenings and demonstrations, please visit www.atlanticgeneral.org/healthyhappenings or call 410-641-9268.
The health fair is generously supported by Apple Drug, Worcester County Health Department, Chesapeake Hearing Centers, Clear Channel Outdoor and Delmarva Media Group.
###
About Atlantic General Hospital
Atlantic General Hospital has been providing quality health care to the residents of Worcester, Wicomico, Somerset (Md.) and Sussex (Del.) counties since May 1993. Built by the commitment and generosity of a dedicated community, the hospital's state-of-the-art facility in Berlin, Md., combines old-fashioned personal attention with the latest in technology and services. It provides quality specialty care such as weight loss surgery, orthopedics, outpatient infusion for individuals with cancer or blood/autoimmune disorders, retina surgery and a comprehensive women's diagnostic center. Atlantic General Health System, its network of more than 40 primary care providers and specialists, care for residents and visitors throughout the region. For more information about Atlantic General Hospital, visit www.atlanticgeneral.org.