Atlantic General Hospital Wound Care Center® Recognized with National Award for Excellence in Wound Healing
Berlin, MD. – Atlantic General Hospital physicians, leaders, and clinicians recently celebrated the Robert A. Warriner III, M.D., Center of Excellence award, which was given to the Atlantic General Wound Care Center for meeting the Center of Excellence quality standards for Healogics, Inc.
The Atlantic General Wound Care Center has achieved patient satisfaction rates higher than 92 percent and a median healing rate of at least 97 percent in less than 23 days, among other quality standards for a minimum of two consecutive years. The national benchmark for median days to heal is 30 and the healing rate benchmark is 91 percent. "The level of performance the Wound Care Center has achieved is a true testament to the vision of Atlantic General Hospital to be the leader in caring for people and advancing the health of the residents of and visitors to our community. We are very proud of this repeated accomplishment and the Associates in the Wound Care Center who have worked hard to achieve it," commented Michael Franklin, FACHE, AGH President & CEO.
The Center was awarded this prestigious honor by Healogics, Inc., the nation's largest provider of advanced wound care services. Out of 155 eligible Centers nationwide, only 88 were honored with this award. Additionally, the Atlantic General Wound Care Center is the only center in the nation to win this award for seven consecutive years. The award is named for Dr. Robert A. Warriner III, a pioneer in wound care and the former Chief Medical Officer for Healogics.
"We are incredibly proud of this achievement and truly appreciate all of the hard work our Associates at the Wound Care Center do to ensure patients are given the quality care they deserve," commented Geri Rosol, MHA Program Director at Atlantic General Hospital Wound Care Center.
The Atlantic General Hospital Wound Center is a member of the Healogics Network of more than 800 Centers, with access to benchmarking data and proven experience treating more than two million chronic wounds. Atlantic General's Wound center offers highly specialized wound care to patients suffering from diabetic ulcers, pressure ulcers, infections and other chronic wounds which have not healed in a reasonable amount of time.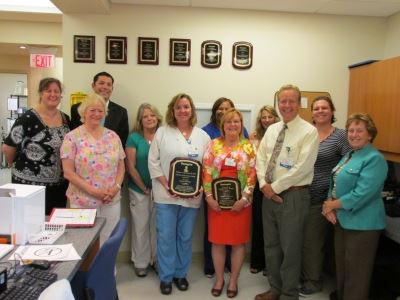 Pictured are: back row – Dr Ceruzzi, Medical Director; Dave Marzullo Healogics Area VP; Jo-Anna Schanno, RN; Chante Walker, MA; Bonnie Bass; Janet Waldman (PA-C); front row – Brenda Marino, RN; Nicole Houseblanc, RN; Geri Rosol, Director; Chuck Gizara AGH Director Clinical Operations; Colleen Wareing, AGH Vice President, Patient Care Services.
About Atlantic General Hospital
Atlantic General Hospital has been providing quality health care to the residents of Worcester, Wicomico, Somerset (Md.) and Sussex (Del.) Counties since May 1993. Built by the commitment and generosity of a dedicated community, the hospital's state-of-the-art facility in Berlin, Md. combines old-fashioned personal attention with the latest in technology and services. Atlantic General Health System, its network of more than 25 primary care provider and specialist offices, care for residents and visitors throughout the region. For more information about Atlantic General Hospital, visit www.atlanticgeneral.org.
About Healogics, Inc.
Headquartered in Jacksonville, FL., Healogics is the nation's largest provider of advanced wound care services. Healogics and its affiliated companies manage more than 800 Wound Care Centers® in the nation, and saw more than 234,000 patients in 2014 through a connected network of centers, partner hospitals, academic medical centers, patients and families. Leveraging its scale and experience, Healogics utilizes an evidence-based systematic approach to chronic wound healing in treating an underserved and growing patient population. For more information, please visit www.healogics.com.