Atlantic General Hospital Health Literacy Program Enters Next Phase
Berlin, Md. – Atlantic General Hospital recently held pre-testing for the next roll-out of its health literacy program, a partnership with Worcester County public schools and Herschel S. Horowitz Center for Health Literacy at the University of Maryland College Park School of Public Health.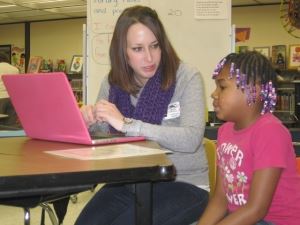 Pre-testing for second, third, fourth and fifth graders throughout the county occurred in January. The roll-out is new to Showell, Buckingham, Snow Hill, and Pocomoke elementary and Snow Hill and Pocomoke Middle schools this year. First grade did not receive testing due to the broad range in development at this grade level, but they are being introduced to integrated health literacy curriculum.
To learn more about the health literacy program please visitwww.atlanticgeneral.org/healthliteracy.
Caption:
University of Maryland Graduate Student, Ayma Rouhani, is pictured with a second grader from Snow Hill Elementary during pre-testing.
About Atlantic General Hospital
Atlantic General Hospital has been providing quality health care to the residents of Worcester, Wicomico, Somerset (Md.) and Sussex (Del.) counties since May 1993. Built by the commitment and generosity of a dedicated community, the hospital's state-of-the-art facility in Berlin, Md., combines old-fashioned personal attention with the latest in technology and services. It provides quality specialty care such as weight loss surgery, orthopedics, outpatient infusion for individuals with cancer or blood/autoimmune disorders, retina surgery and a comprehensive women's diagnostic center. Atlantic General Health System, its network of more than 40 primary care providers and specialists, care for residents and visitors throughout the region. For more information about Atlantic General Hospital, visitwww.atlanticgeneral.org.