Atlantic General Hospital Presented With Komen Maryland Pink Ribbon Partner Award
The Pink Ribbon Partner Awards are given to partners who display extraordinary commitment to the Komen Promise. This commitment can be demonstrated through volunteer work, donations, advocacy or sponsorship.
AGH is deeply committed to Komen Maryland's mission through sponsorship of the Ocean City Race for the Cure since its inception and partnership for the ES (Eastern Shore) Symposium for the past two years. Representatives from Atlantic General have attended many Komen events and activities on the Lower Shore, staffing the first aid tent at the Race for the Cure and sponsoring a Women's Diagnostic Center team that participates annually.
Dawn Denton, community education manager at AGH and previous Komen Maryland Survivor Awardee, sits on the Symposium Committee and the OC Race Committee. In addition to Dawn's extensive volunteer support, the staff of the Eunice Q. Sorin Women's Diagnostic Center attends the ES Consortium meetings, and has partnered to host two symposiums in the area with an AGH surgeon and oncologist serving as expert presenters.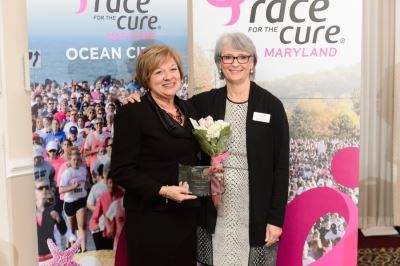 Photo caption: AGH Community Education Manager, Dawn Denton, pictured here with Robin Prothro, Founding CEO of Komen Maryland.