AGH Celebrates Extraordinary Nursing With The Daisy Award
Berlin, Md. – Atlantic General Hospital recently awarded the DAISY Award for excellence in nursing to Tanna Bradford, RN.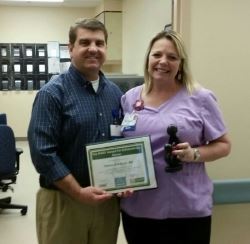 Bradford, who has worked at Atlantic General Hospital for four years, currently serves as a charge nurse on the Med-Surg Unit. Throughout her career she has worked in various roles including home health, hospice and care coordination for individuals with disabilities.
Bradford's first nomination was from a patient who wrote, "Tanna is the epitome of a good nurse." Her second nomination came from a family member who described Bradford as the "most compassionate nurse I have ever met." The family member praised Bradford for the care provided to her mother not just on this occasion, but on also on previous hospitalizations. She describes how Bradford expressed genuine concern and spent extra time to provide compassionate care to her family member.
"My mom always responds and smiles when she (Tanna) walks into the room. I respect her so much and truly adore her."
Of her nomination, Bradford said, "It is truly an honor to be nominated. I take pride in being a nurse and working at AGH. It's nice to be acknowledged by the patients and their families."
The DAISY Award, created by The DAISY Foundation in Memory of J. Patrick Barnes, honors the extraordinary work nurses do for patients and families each day. Hospital leadership brought the awards program to Atlantic General to recognize the compassion and high level of care its nurses provide to residents and visitors of the community.
Patients and visitors can nominate an Atlantic General Hospital and Health System nurse for the DAISY Award at any time. Nomination forms are available in every hospital department and health system physician office.
DAISY award recipients are nominated by those who have received extraordinary care and AGH celebrated honoree, Tanna Bradford, for her commitment to serving patients and going above and beyond.
Caption:
DAISY Award Honoree Tanna Bradford, RN with Scott Rose, Director of ICU and Cardiopulmonary Services