AGH Celebrates John "Jack" H. Burbage, Jr. And His Service As Chairman Of The Board Of Trustees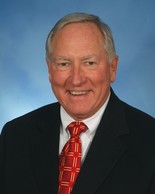 Atlantic General Hospital celebrated the commitment and service of Board of Trustees Chairman, John "Jack" H. Burbage, Jr. at its recent Corporation meeting.
Jack has served as an AGH Board of Trustees member since 2007, and while he has officially stepped down from his role as Chairman, will remain an integral part of the Board. He was voted in as Chairman in November 2011, serving in that role for the last three years. In addition to his involvement with the Board of Trustees, Jack has been a driving force in philanthropic efforts for the AGH Foundation and has helped them surpass their goals for the past several years.
At the recent AGH Corporation meeting, Jack was presented with a gift recognizing his extraordinary service as Chairman of the Board of Trustees. He has been incredibly generous sharing his time and expertise with AGH and its efforts to be the leader in caring for people and advancing the health for the residents and visitors to our community. "Jack is a great leader in our community, and he has helped guide AGH through a tremendous period of change. Jack has been a great friend and mentor to me, and we will always appreciate his work for Atlantic General," Michael Franklin, President and CEO.
---
About Atlantic General Hospital
Atlantic General Hospital has been providing quality health care to the residents of Worcester, Wicomico, Somerset (Md.) and Sussex (Del.) counties since May 1993. Built by the commitment and generosity of a dedicated community, the hospital's state-of-the-art facility in Berlin, Md., combines old-fashioned personal attention with the latest in technology and services. It provides quality specialty care such as weight loss surgery, orthopedics, outpatient infusion for individuals with cancer or blood/autoimmune disorders, retina surgery and a comprehensive women's diagnostic center. Atlantic General Health System, its network of more than 40 primary care providers and specialists, care for residents and visitors throughout the region. For more information about Atlantic General Hospital, visit www.atlanticgeneral.org.