Event Details
Virtual Diabetes Education Event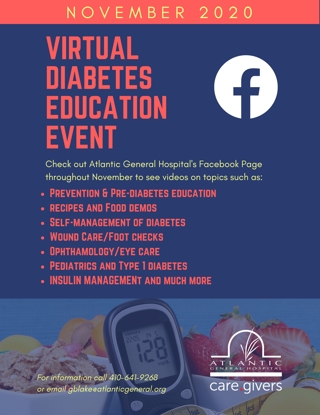 About This Event
Event Type:Community Education
Details:
Virtual Diabetes Education Event on Facebook
Throughout the month of November, Atlantic General will be celebrating Diabetes Awareness Month with a series of engaging and educational posts on
the Atlantic General Hospital Facebook page. Our providers will be presenting on a number of diabetes-related topics including prevention, nutrition,
weight management, insulin, self-management, skin care, wound care and more.
Visit facebook.com/atlanticgeneralhospital to view these videos.
For information, call 410-641-9268.
Registration
Price: Free
Registration Instructions: No Registration Required