Virtual Osteoporosis Workshop
Thank you for participating in our Strong Bones Virtual Workshop! You can find the tips, videos and other helpful information from the Facebook event below.
January 18
What you eat can directly affect your bones. Learn about the foods that are rich in calcium, vitamin D and other nutrients that are important for your bone health from registered dietitian Amanda Buckley.
Osteoporosis and Nutrition
Osteoporosis Fast Facts
According to the National Osteoporosis Foundation (NOF), an estimated 10 million Americans have osteoporosis, and about 80% of those are women. The NOF also reports that approximately one in two women over age 50 will break a bone due to osteoporosis. Get more info here with this "fast facts" sheet from the NOF.
Osteoporosis by the Numbers
What exactly is osteoporosis? Here's a great video about what happens to your bones when you have this disease.
January 19
An Osteoporosis Overview, by Dr. Michael Sean Hooker
Osteoporosis can result in painful fractures of the hip, wrist, spine and other bones. Orthopedic surgeon Dr. Michael Sean Hooker talks about fractures and their consequences.
Osteoporosis Infographic
Who gets osteoporosis? What are the costs, both financially and physically? Take a look at the National Osteoporosis Foundation's helpful infographic: "Osteoporosis by the Numbers."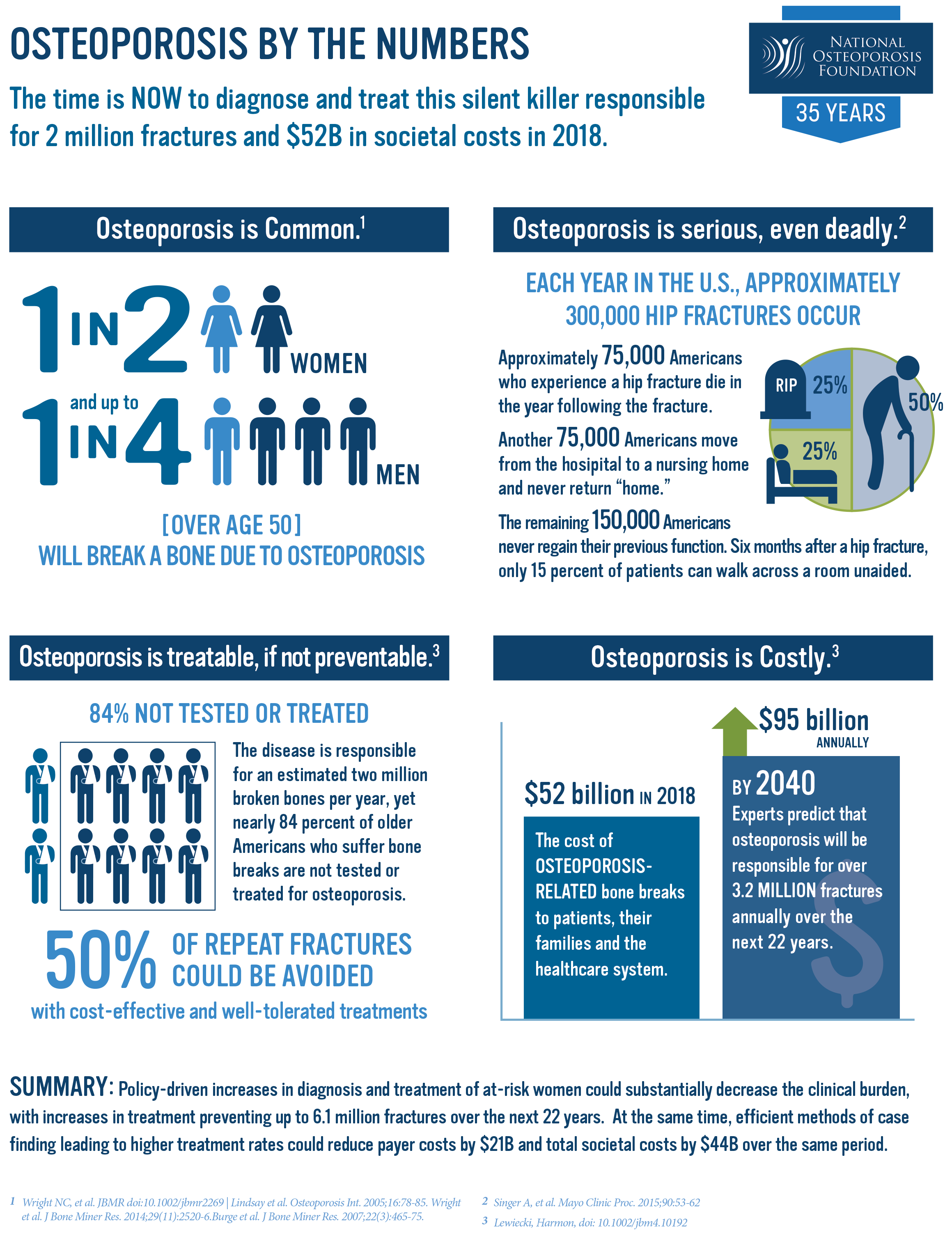 Keep Moving!
Regular exercise should be a part of taking care of your bones. The National Osteoporosis Foundation has an extensive library of "Safe Movement and Exercise Videos." As always, check with your health care provider before beginning any exercise program. Click here to get started.
January 20
DEXA Scans
Early detection of osteoporosis is an important part of keeping your bones healthy. Today Brooke Williams tells us about DEXA scans, a painless and non-invasive form of screening.
Isabel's Story
What can osteoporosis mean to you and your family? Read Isabel's story to learn about its effects and ways to prevent this disease. Click here.
Calcium & Vitamin D Pocket Guide
Taking the right amount of calcium and vitamin D is key to keeping your bones strong. Check out this handy pocket guide that provides great info on how much to take and where you can find these nutrients in your diet. Click here
January 21
Bone density screening can also be done in the field, at events such as health fairs. Registered nurse Genie Blake gives us a demo of this quick and easy way to check the status of your bone health.
Smoking Cessation Help
The National Institutes of Health (NIH) have identified smoking as a direct cause of decreased bone density. Smoking increases the risk of having a fracture, and has been shown to have a negative impact on bone healing after a fracture (NIH). The Worcester County Health Department offers free tobacco cessation classes throughout the area. Click here for more information.
Preventing Falls in Your Home
Unfortunately, falls and fractures can sometimes go together when it comes to osteoporosis. Learn how you can fall-proof your home with these tips from the National Institutes of Health. Click here.
January 22
Exercises for Health & Balance
The right types of exercise can help prevent or even improve weakening bones. According to the National Institute on Aging, weight training, walking, hiking, jogging, climbing stairs, tennis, and dancing are all appropriate forms of weight-bearing exercise for those with osteoporosis. Balance, stretching and strengthening are also very important. As always, check with your health care provider before beginning any exercise program. Click here
Men's Bone Health
Osteoporosis doesn't affect only women--men over age 55 are at risk for decreasing bone density. Check out this fact sheet on men's bone health. Click here