Medication Therapy Management
AGHRx RediScripts Pharmacy
9733 Healthway Drive, Berlin, MD 21811
(410) 641-9240
Monday - Friday, 8 a.m. to 6 p.m.
Saturday, 9 a.m. to 5 p.m.
Taking medications can be a very complicated task, but with our MTM program, we help make it as simple as possible. Through the MTM Program, you receive:
A comprehensive medication review, either at the pharmacy or in your own home.
Medication education
Assistance with medication costs
Guidance on Medicare Part D options, for those who are Medicare-eligible.
A monthly blister-pack system to organize prescriptions to help ensure you're taking the right medications at just the right time.
Home delivery via FedEx for those who qualify.
During our Comprehensive Medication Review (CMR), we review all of your medications, looking for possible interactions and duplications as well as making sure all medications are suitable for you. The CMR can take place at the RediScripts pharmacy or in your own home.
We can go over various options during the Medicare Part D open enrollment period as well. Next, we work with you and your healthcare providers to overcome any medication-related issues – including cost.
Expanding our services even further, we now offer compliance packaging for MTM patients who need additional help managing their medications. We offer a monthly blister-pack system to help ensure you're taking the right medications at just the right time.
Home delivery of medications via FedEx is also available for MTM patients who are unable to pick up their medications.
All it takes to enroll in our MTM program is a simple phone call. We're ready to answer any questions you may have.
If you're a patient of Atlantic General Health System or are enrolled in our Patient Centered Medical Home (PCMH) service, your provider can also send us a referral through the PERKS electronic medical record.
Meet Karan Bealla, Your Personal Pharmacist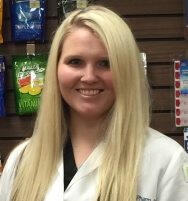 Karan Sluhocki Bealla, Pharm D, is a full-time staff pharmacist at AGHRx RediScripts. Karan is specially trained to meet your MTM needs – quickly, conveniently and comfortably. With more than a decade of experience in the retail pharmacy industry, she also teaches the medication education portion of AGH's Diabetes Outpatient Education Program. Karan is a graduate of Wilkes University in Wilkes-Barre, Pennsylvania, where she received her Doctor of Pharmacy degree.
To learn more about the program and how to enroll, call (410) 641-9240.