Annette S.
Author: Annette
Date Submitted: Feb 6, 2020
Category: Bariatric/Weight Loss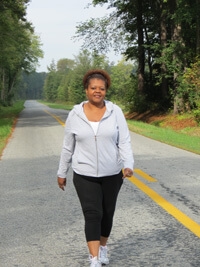 "If I don't exercise, my day doesn't start right," Annette said.
Annette originally signed up to learn more about bariatric surgery because her daughter, who had a heart condition, was considering gastric banding and she didn't want her to go through it alone.
It turns out that her daughter's heart condition was too serious to risk surgery; but Annette was a good candidate. As she learned more about the benefits of the procedure and the services she would have access to through the program, she became more interested.
It took a year for her to make up her mind. It is a very big decision, and one that is incredibly personal.
When she made the decision, she gave it her all.

"Once I had the surgery, I knew I had to do it right. I didn't have a choice," Annette said.
Through the office visits and classes, she learned about how she needed to eat and that she needed to make a commitment to physical activity. The staff was there to answer all her questions and guide her along the way. Nearly a year later, they are still there for her to lean on.
The experience has changed her entire mindset. She went from exercising occasionally to a daily walking regimen that consists of two four-mile treks – one in the morning and one in the evening.
"If I don't exercise, my day doesn't start right," Annette said.
Annette pre-surgeryA year after surgery, she had lost around 100 pounds and had 40 or 50 to go. But, she looks forward to stepping on that scale at the doctor's office to see her progress.
Annette, before her weight loss surgery
Call Atlantic General Bariatric Center for more information and upcoming weight loss seminar dates.