MOTOWN After Party
MOTOWN After Party is a brand new event that will celebrate the future of Atlantic General Hospital in support of the $10,000,000 Atlantic General Campaign for the Future, which is the philanthropic community support that will allow Atlantic General to complete $35,000,000 in capital projects.

With philanthropic community support – YOU CAN MAKE A DIFFERENCE!
Click here to view our raffle winners!
FRIDAY, NOVEMBER 22, 2019
7 – 11 pm
Aloft OC
4501 Coastal Highway
Ocean City, Maryland
Book your group rate for Atlantic General Hospital here!
---
The evening will include grazing stations and passed hors d'oeuvres catered by Sunset Grille, open bar and live entertainment by Jimi Smooth and the HitTime Band. The evening and attire will be a focus on "The Glory Years: 1960s – early 1970s."
In lieu of auctions the evening of the event, we are selling raffle tickets for a chance to win fabulous prizes, that include 12 vacation getaways. Click here to purchase raffle tickets.
MORE INFO
Additional details including attire descriptions can be found below.
With philanthropic community support of the MOTOWN after party – YOU CAN MAKE A DIFFERENCE! To date, the Foundation has received over $7,195,000 in grants, pledges and commitments toward our $10,000,000 goal. It is for this reason that we seek your help.
TO BE SUCCESSFUL, WE NEED THE SUPPORT OF EVERYONE IN THE COMMUNITY. OUR COMMUNITY HOSPITAL WILL NEED FINANCIAL SUPPORT FROM EACH RESIDENT, BUSINESS AND VISITOR.
WITH THE FLEXIBILITY TO SPREAD A COMMITMENT OUT OVER FIVE YEARS, WE WANT TO MAKE IT POSSIBLE FOR EVERYONE TO PARTICIPATE IN THIS VITAL CAMPAIGN.
Click here to find out more about the Campaign for the Future.
Click here for MOTOWN After Party tickets and sponsorship opportunities.
Text AGHMOTOWN to 41444
The generosity and support we have in our community is remarkable.
PLEASE JOIN US AND OUR LIST OF DONORS TO DATE
in contributing to what will be a lasting and significant legacy to our future generations. With philanthropic community support of the Campaign for the Future –
YOU CAN MAKE A DIFFERENCE!
---
LIFE VISIONARY*

John H. "Jack Burbage, Jr.
MHA – State of Maryland
---
LIFE CHAMPION*
Myers Family Foundation
Town of Berlin
Town of Ocean City
---
LIFE PARTNER*
AGH Auxiliary ∙ Bank of Ocean City ∙ Calvin B. Taylor Banking Co.
Esham Family Limited Partnership ∙ Michelle & John Fager
Franklin P. and Arthur W. Perdue Foundation, Inc. ∙ Guerrieri Family Foundation
M&T Charitable Foundation ∙ Walter "Macky" and Pam Stansell
Worcester County Commissioners
---
LIFE AMBASSADOR*
Andrew & Pamela Adkins ∙ AGH/HS Associates ∙ AGH Junior Auxiliary Group ∙ Nancy Barrett
Lew & Betty Bush ∙ Reese F. Cropper, III ∙ Deeley Insurance Group ∙ Trond and Linda Emberland
William E. Esham, III ∙ Todd & Jill Ferrante
Michael A. & Marianne C. Franklin ∙ William A. & Julianne Gibbs ∙ Sandy and Palmer Gillis
Christine Glick & Family – In Memory of Hal Glick
Robert Hammond & Family – Atlantic Physical Therapy
Harrison Group ∙ Tom & Beth Hershey
Phil & Marie Houck and Family ∙ Humphreys Foundation, Inc. ∙ Jenkins Group
Joan W. Jenkins Foundation, Inc. ∙ Kathy & Mike Marshall
Ray Nichols, Charles Nichols & Michelle Nichols Neff
Tony & Trudi Russo ∙ Old Pro Golf- Herbert & Judy Schoellkopf ∙ G. Marvin & Beverly Steen
The Sunsations Family – In Memory of Celia Krasner
Wilde Charitable Foundation – Hugh F. Wilde, Sr. ∙ Mr. & Mrs. Charles Parker, Sr. and Jr.
---
LIFE BUILDER*
AGH Medical Staff ∙ Debbi, Bill and Shawna Anderson ∙ Bank of Delmarva ∙ Larry & Beth Barnes
Bayside Skillet - Peter and Rebecca Zweigbaum
Sidney & Sherri Beckstead ∙ R. Clifford & Donna Berg
James R. Bergey Family ∙ Woody & Cam Bunting ∙ i.g. Burton of Berlin
Dale R. & Charlotte K. Cathell ∙ Phillip & Jeanie Cheung ∙ James C. "Bud" & Allyson Church
Douglass & Lisa Cook ∙ CraZy LadyZ – Jan Patterson & Louise Reardon
Hugh & J.L. Cropper ∙ Susan & Hugh Cropper, III
In Memory of Stanley Cylc – Margaret D. Cylc & Family
Dr. Kathy Dillon & Mr. Dan Mason ∙ Raphael Dodoo, M.D. ∙ Sally Hamel Dowling, M.D. and Family
DAFA, Inc. - The Fasano Family ∙ Bill and Mary Anne Freeman ∙ Brad & Kim Gillis
The Colangelo Family & Global Reimbursement Consultants
Mr. & Mrs. J. Steven Green – The Dispatch ∙ Dr. & Mrs. Jeffrey Greenwood
In Memory of Louise Gulyas – Worcester County Commissioner 1998 – 2014
Thomas, Belinda & TJ Gulyas ∙ Dr. Roopa Gupta & Mr. Probal Gupta ∙ Thomas G. Hanley Trust
Donald A. and Phyllis "Pam" Hastings ∙ Mr. and Mrs. W. Todd Hershey ∙ Christopher & Jennifer Hoen ∙ Richard & Cheryl Holland
Madalaine Leszcz & Harry B. How ∙ Michael & Marilyn James ∙ Jay & Mary Knerr
James R. Kyger, Jr. ∙ Stephen & Kristen Lewis - Big Fish Classic ∙ William Mariner ∙Dawn McGee & Terri Stevens
Pete Meeks and Jodie Noonan
Kimmerly Messick - 2018 Hal Glick Distinguished Service Award Recipient
Drs. Michnick & Takacs, DDS PA ∙ Virginia P. Mix – In Memory of G. Warren Mix
Montgomery Financial Services - Jeff and Joan Montgomery
Mr. & Mrs. Michael Nottingham and Family ∙ Ocean City / Berlin Rotary Club ∙ Tom & Doris O'Keefe ∙ Parker Foundation
Tammy A. Patrick – In Memory of Kenneth Patrick, Sr.
Alice & D. Bruce Rogers ∙ Ropewalk ∙ Barbara and Mel Ross
Sandpiper Energy / Chesapeake Utilities
Gary and Pat Sauter - In Honor of Aimee Sauter Delaney ∙ Joe M. Shaw
Gregory and Susan Shockley ∙ Raymond C. & Susan B. Shockley
Shore United Bank ∙ Kenneth & Elizabeth Simpler ∙ Lois A. Sirman
Regan J.R. & Julie Smith ∙ Sunset Grille - In Honor of Hope Palmer ∙ Bradford & Rebecca Taylor
Louis H. Taylor & Family ∙ Temple Bat Yam - 2018 Hal Glick Distinguished Service Award
Jeff and Rina Thaler - In Memory of Ruth Thaler
The Voice Radio Network ∙ Happy Jack Pancake House - The Torrey Family
George & Emily Tunis ∙ Margaret Warfield & Family – In Memory of Robert E. Warfield, Sr.
John & Gail Whaley ∙ Mike Wheaton ∙ Dee Whittington - In Memory of Kenneth D. Whittington ∙ Joseph Wilson
R. Erik and Colleen Windrow ∙ George & Terry Wright ∙ Dr. Alae & Kim Zarif ∙ Mike & Nour Ramadan - Dairy Queen
---
* LIFE VISIONARY - $1,000,000+
* LIFE CHAMPION - $500,000 - $999,999 * LIFE PARTNER - $100,000 - $499,999
* LIFE AMBASSADOR - $25,000 - $99,999 *LIFE BUILDER - $5,000 - $24,999
---
MOTOWN After Party Committee

Co-Chairs:
VIRGINIA PAPPAS
DAWNE PAPPAS
PATTY FALCK
TEAM

Pam Adkins
Kari Berger
Amy Burbage
Jennifer Hershey
Laura Kaufman
Kam LaBrunda
Laura Mathabel
Dawn McGee
Jodie Noonan
Tammy Patrick
Joy Stokes
ATLANTIC GENERAL CAMPAIGN FOR THE FUTURE
EXECUTIVE COMMITTEE
John H. 'Jack' Burbage, Jr
Co-Chair
Michelle Fager
Co-Chair
Todd Ferrante
Foundation Chair
Michael Franklin
President/CEO
Christine Glick
Committee Officer
Toni Keiser
Vice President, Public Relations
Tammy Patrick
Development Officer
Gregory S. Shockley
Board of Trustees Chair
Please contact Tammy at tpatrick@atlanticgeneral.org or 410.641.9690 to schedule a meeting to discuss the specifics of a donation or fundraiser for the Campaign for the Future and the MOTOWN After Party event that would be comfortable for you.
What to Wear
WOMEN
Ladies, don't be scared off by thoughts of seventies bell-bottoms, flared jeans and laced-up platform boots. There is nothing more classic -- or timeless -- than a little black dress.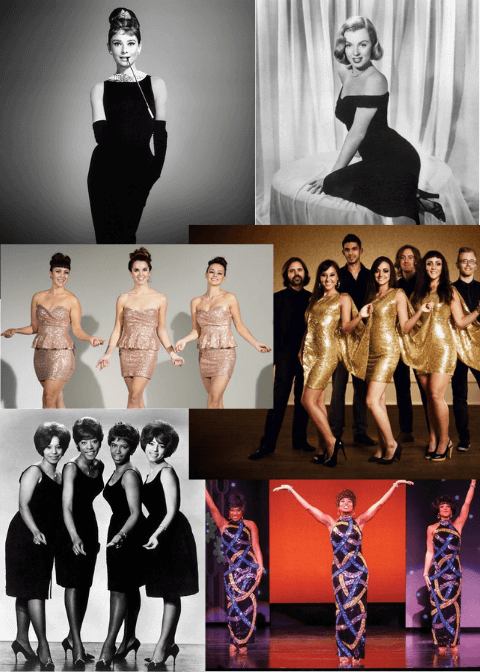 Cocktail dresses are a classy tribute to the decades before us. Black cocktail dresses with neck detail or interesting backs are a perfect fit for the occasion. Bodycon dresses -- some black and others in bright colors with sparkles -- are also reminiscent of the era and have crept back into fashion trends.
For a sleek, sophisticated layer to help brave the autumn chill, bury your shoulders in a warm furry wrap. A vest with fur will also do. Statement jewelry pieces are fabulous -- choker necklaces, gold chains of different lengths and textures, glitzy stones or other sparkling pendants.
MEN
Men, if you don't like riding too far back in the time machine and think a full-blown tuxedo is too fancy, mix elements of a tuxedo with modern staples.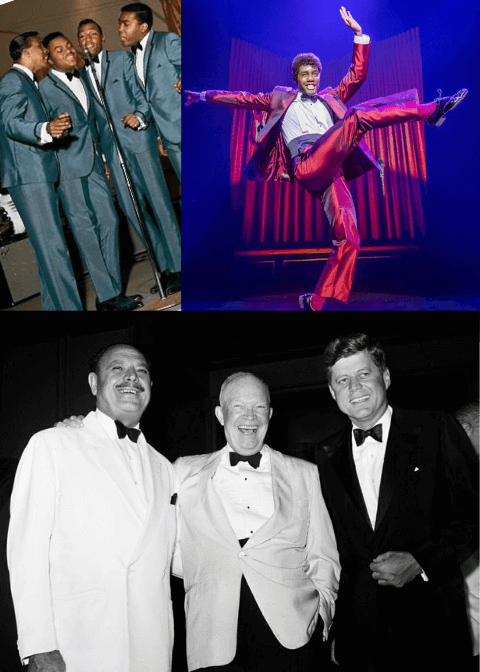 A tuxedo shirt with dark pants is a passable pairing. A clean, crisp outfit is to mix tuxedo pants with a white shirt, and tie the outfit together (literally) with a skinny tie or bow tie.
For an updated version of the tuxedo outfit, wear a blazer or coat -- ideally with satin lapels -- with a plain, basic shirt (white or black) and add your personal style with bling -- anything shiny to pay homage to the stars you admire through your attire.
Fur collars, a black fedora and aviator shades would complement any outfit and turn the retro meter up a notch for a touch of class to recreate fashion from the past.
Men can dress the part by donning suit jackets and bling.
Mocking the style of the Motown-era performers, old tuxedo jackets, satin blazers and black pants would be an appropriate way to give a nod to the fashion sense of preceding decades.
Whatever you decide to wear,
"Love has the greatest vision of all time."
When you look good, you feel good. And feeling good makes you love yourself a little more.